Home / Business / Biz Photos
'Dr Cattleman' focusing on producing milk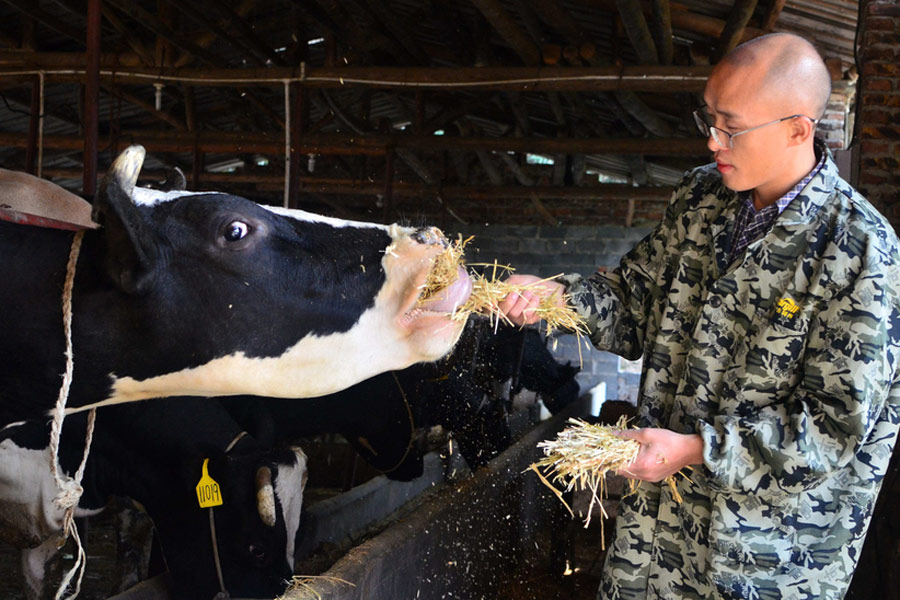 Zeng Bo, a doctorate holder in animal nutrition from Chinese Academy of Sciences, feeds a cow in Chenzhou, Central China's Hunan province, on December 4, 2016. [Photo/VCG]
Zeng Bo, a doctorate holder in animal nutrition from Chinese Academy of Sciences, quit his high-paying job in a foreign company to raise cows in his wife's hometown, Chenzhou, Central China's Hunan province, last year.
Through frozen semen breeding and artificial propagation, Zeng has bred the original nine Holstein cows to 32 cows that can produce milk up to 250 kilograms daily. In order to produce high-quality fresh milk, Zeng has carried out strict procedures of milking.
The 34-year-old entrepreneur, having launched his first dairy in Chenzhou City in spring this year, plans to start another two by the end of this year. He also has three franchise units in the surrounding counties and cities.
Besides milk and yogurt, Zeng's company also produces cheeses and several kinds of dairy products to extend the industrial chain and enhance the added value of fresh milk.
Zeng said he hopes to become a famous cheesemaker in South China in the future.