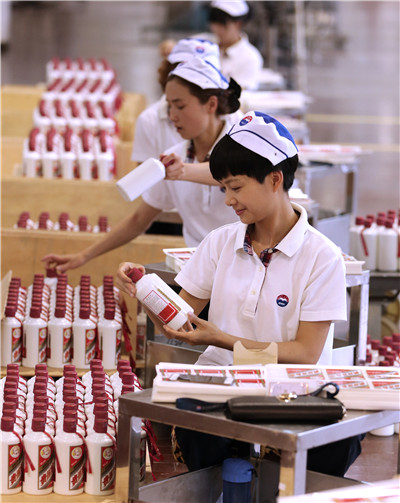 Workers at the production line of the famed baijiu Moutai at Moutai town in Guizhou province.JIANG DONG/CHINA DAILY
Now that the business of baijiu, the Chinese intoxicating drink, is looking to expand beyond Asia, industry experts note there are still some notable obstacles on its way to success.
1. Branding. Because the white spirit is a traditional drink strongly embedded in China's history, baijiu producers have only opted for conservative designs that are attractive to local consumers.
Industry experts note that most foreigners find it extremely difficult to pronounce and remember the names of China's main brands, requiring producers to come up with more international names if they want to crack foreign markets.
Additionally, baijiu bottles are in desperate need of more cosmopolitan and interesting shapes to appeal to international audiences.
"If you look at the traditional baijiu packaging, they all seem to be competing to be the one that looks more traditional and more Chinese," said Matt Trusch, CEO of Byejoe, a US producer and distributor of baijiu mix drinks. "They really never thought of coming up with something really exciting."
2. Drinking culture. Baijiu is the favorite drink on the Chinese table during special occasions such as holidays and weddings. The white liquor is also ubiquitous during business meals in China.
However, Western consumers do not have any cultural attachment to the liquor and tend to clash with the traditional baijiu drinking ritual.
In China, consumers of the liquor are encouraged to drink glass after glass, yet this custom can be considered excluding to those who prefer to slowly enjoy their spirits.
"In China, you usually need to finish your glass when toasting with baijiu," explained Matthias Heger, co-founder of Capital Spirits. "However, this is unacceptable for someone in the West who has been taught to sip the spirit to appreciate its flavor."
Women have also often felt excluded in the practices of drinking the liquor because they prefer to consume spirits with lower alcoholic content and sweeter flavors.
"We are trying to modernize the drinking ritual," said Trusch of Byejoe. "Because our drinks taste like cocktails, it attracts women to drink it, engaging them in the baijiu drinking ritual."
Capital Spirits believes that most producers of the white spirit have failed to understand that there is a need to first educate consumers in the West about the drink and the way it is consumed.
"It is not about introducing a new brand, you actually need to introduce a whole new category to the consumer," noted Heger of Capital Spirits. "Putting it in a new bottle is only a small part of the process."
3. Palates. Despite the increasing interest in exporting the drink, the white liquor is not a love at first shot for most foreigners.
China's largest baijiu producers have been generally reluctant to introduce new flavors or to enter the ready-to-drink market.
"Many brand owners of baijiu have spent years building up and maintaining their brand heritage and premium credentials," wrote Jonny Forsyth, global drinks analyst at Mintel Research. "Such credentials usually involve drinking baijiu 'neat', rather than mixing it, something that would dissipate the nuanced flavors of luxury baijiu expressions."
Chinese like very strong smells in baijiu and that is not necessarily something appealing for foreigners.
"The main challenge for adoption outside of China is the unique flavor profile of baijiu," added Steaven Chen, principal at CNS Imports. "Imagine growing up on American cheese and switching right to Epoisses (a French cheese known for its pungency)."
Infusing flavors and using drink mixes are expected to help foreign consumers to assimilate the drink faster.
"The reason why we serve baijiu cocktails at the bar is because so many foreigners are scared of the raw and pure baijiu and they don't want to try it," explained William Isler, co-founder of Capital Spirits. "The cocktails help us to break the mental block."