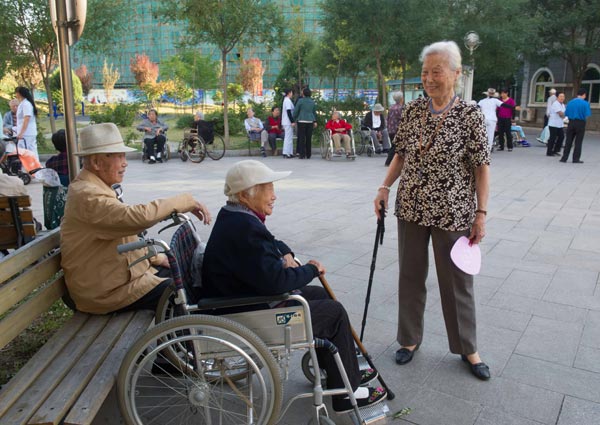 Senior citizens chat at a retirement home in Beijing. [Photo/Xinhua]
BEIJING - The State Council on Monday published a document on the regulation of social security fund.
The majority of social security fund comes from central government budget, state-owned capital and the fund's investment return, according to the regulation.
like social insurance funds, which require current payments to cover citizens' pension, medicare, unemployment and maternity benefits, the social security fund, established in August 2000, is a "ballast" reserve for future expenditures among an aging population.
The fund, managed by the National Council for Social Security Fund, will be essentially used to supplement any shortfall in pension expendititure.
The regulation also stipulates multiple risk prevention and control measures for the fund's operation and management, and provides the range of the fund's investments, internal control systems and management of fund managers.
The central government's finance and insurance authorities will supervise the fund's operation.
The fund will also be subject to audits by the National Audit Office. The results of which, as well as the fund's operation conditions, will be made public annually.
As no immediate solvency is needed, the social security fund is more suitable for medium and long-term investments.
As of the end of 2015, the national social security fund totaled 1.5 trillion yuan ($231.5 billion).