Central bank chief says there are many policy tools at hand to shore up China's economy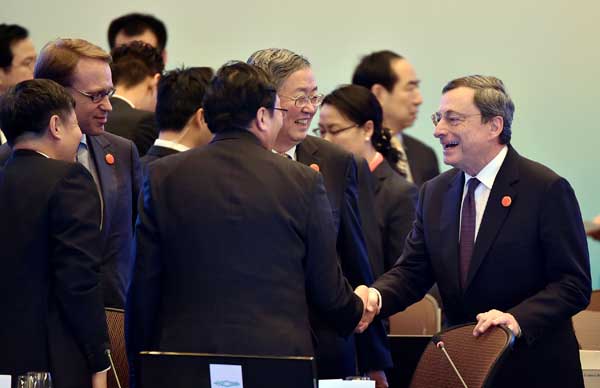 Mario Draghi (right), president of the European Central Bank, shakes hands with Finance Minister Lou Jiwei as People's Bank of China Governor Zhou Xiaochuan looks on before the opening ceremony of the G20 Finance Ministers and Central Bank Governors Meeting on Friday in Shanghai. LI XIN / XINHUA
China's central bank Governor Zhou Xiaochuan said on Friday that the country still has some monetary policy tools to shore up economic growth, and that the government isn't worried about decreasing foreign exchange reserves.
"Given the current Chinese and global economy, our monetary policy is now prudent and relatively accommodative," Zhou said before the two-day Group of 20 central bankers and finance ministers meeting, which opened on Friday evening in Shanghai.
"China still has some monetary policy (maneuvering) space and multiple policy instruments to address possible downside risks," Zhou said.
The G20 meeting will focus on ensuring full, consistent and timely implementation of post-crisis reforms and will discuss experiences and lessons in the implementation of prudent policy frameworks and tools.
Topics to be discussed also will include green finance, infrastructure investment, anti-terrorist financing and promotion of financial inclusion, according to the G20 agenda.
The Chinese economy grew by 6.9 percent year-on-year last year, the slowest rate since 1990, sparking concerns that growth may continue to dip and contribute to the already worrisome economic woes suffered by developed and emerging economies alike.
China's stock market tumble since early this year and the falling exchange rate of the yuan, whose central parity rate dropped to 6.53 against the US dollar on Friday from about 6.1 in May last year, have further worsened market concerns.