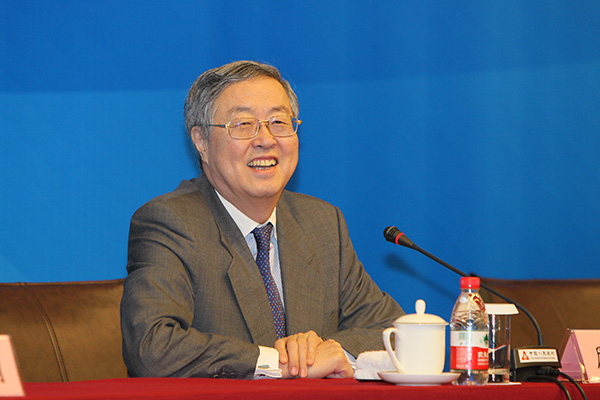 Zhou Xiaochuan attends a press conference in Shanghai, China, Feb 26, 2016. [Photo/Gao Eqiang]
Central bank governor Zhou Xiaochuan said on Friday that the country still has some monetary policy space and tools to shore up stable economic growth.
He also said China does not worry about its decreasing foreign exchange reserves.
"Given the current situation of the Chinese and global economy, our monetary policy is now prudent and relatively accommodative," Zhou said during the two-day Group of 20 central bankers and finance ministers meeting. "We still need to closely monitor developments and make adjustments as appropriate. China still has some monetary policy space and multiple policy instruments to address possible downside risks."
The Chinese economy grew 6.9 percent year-on-year in 2015, the slowest rate since 1990, sparking concerns that growth of the world's second-largest economy may continue to dip and affect the global growth performance.
"We will continue to adopt a stable monetary policy," Zhou said. "We will mainly focus on maintaining healthy and stable domestic growth and shifting to new growth pattern against the backdrop of economic new normal."
Economists have expected the monetary authorities to further cut interest rates and lower banks' reserve requirement ratio to offset the downward pressure, but the benchmark interest rates have not been cut since October. Instead, the central bank has tried to drive down market interest rates through a price-based monetary framework.
Zhou also said China's scale of current foreign exchange reserves is appropriate and there is no basis for sustained depreciation in its currency.