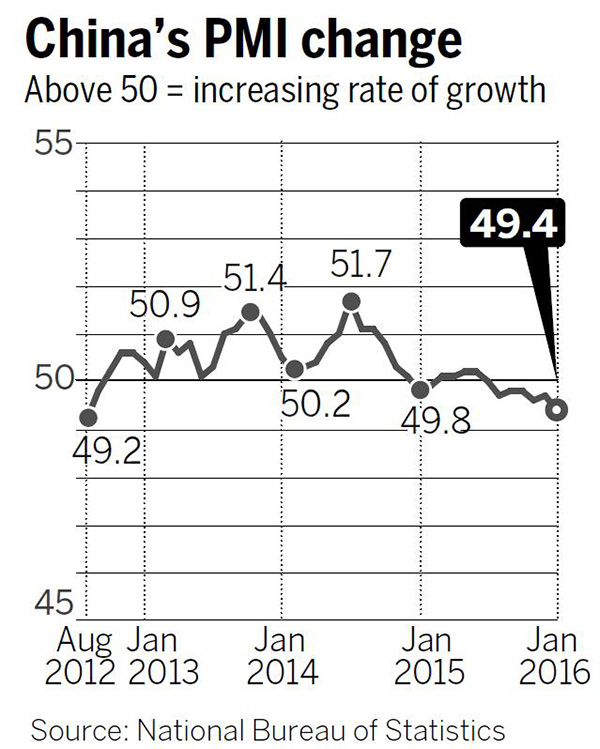 China's official factory gauge signaled a record sixth straight month of deterioration, raising the stakes for policymakers struggling to prop up the economy amid a second bear market in stocks since June and a currency at a five-year low.
The purchasing managers index dropped to a three-year low of 49.4 in January, the National Bureau of Statistics said on Monday. That compared with a median estimate of 49.6 in a Bloomberg survey of economists. A reading above 50 indicates expansion, while a reading below 50 reflects contraction.
The official services index also fell, while a private PMI survey signaled the industry shrank for an 11th month.
The reports could worsen policymakers' dilemma: either add monetary stimulus to help stem the slowdown in growth, or avoid more easing that could exacerbate record capital outflows and put more pressure on the yuan. Chinese stocks fell, extending January's steepest monthly rout since 2008, threatening to further shake investor faith.
"What has happened on the capital account, and how the authorities seem to want to respond to this in terms of policies, make it harder for them to respond to the weak economy by mainstream, forceful monetary measures," said Louis Kuijs, head of Asia economics at Oxford Economics in Hong Kong. He said he expects more "quasi-fiscal policies" such as expedited spending on infrastructure to be announced.
The six-month span that the official manufacturing gauge has stayed below 50 is the longest stretch of readings below that level in NBS data since the start of 2005. The PMI slumped last month because of weak demand and efforts to reduce overcapacity, NBS said in a statement on Monday. Indicators for new export orders and imports also decreased from a month earlier.