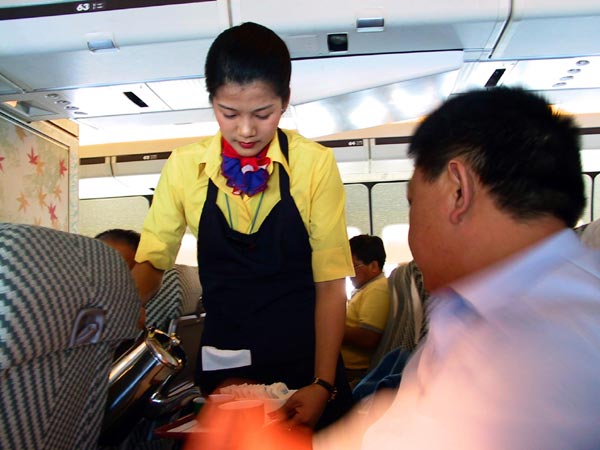 A stewardess serves hot water onboard a flight to Bangkok. [Photo/China Daily]
While scandals involving Chinese air travelers have recently tarnished the country's airline etiquette reputation, a Chinese passenger won praise over Christmas after coming to the aid of a sick Thai air steward.
Qu Yan, a retired doctor from the Guangxi Zhuang autonomous region, was on Flight OX619 from Nanning city to Bangkok on Christmas Day when flight staff announced they were in need of someone capable of emergency medical treatment.
On hearing the notice, 58-year-old Qu stepped forward and volunteered to help.
A male Thai flight attendant had suffered a sudden surge of severe abdominal pain and the cabin crew had delayed the aircraft's take-off to give him treatment.
"When I came to him, I found his face was terribly pale and his lips colorless. Sweat was pouring out of his forehead and he was holding his anguished belly, unable to say a word," says Qu.
Based on her years of clinical experience, Qu diagnosed the attendant was suffering from a urethral convulsion caused by kidney stones.
The flight took off after the cabin crew was told by Qu that the sick steward, whose vital signs had recovered, could receive comprehensive treatment when the plane arrived in Bangkok.
During the three-hour trip, Qu massaged ointment from her luggage on the attendant's abdomen to ease his pain.
Thanks to Qu's timely treatment, the attendant was much better and could walk down the passage unassisted when the flight landed.
"It was at that moment that I was assured about his safety," Qu says.
You Dongjie, a journalist from Sing Sian Yer Pao Daily, a Chinese newspaper in Thailand, happened to witness the whole incident on the flight.
When she uploaded the picture and story on Chinese micro blog Sina Weibo, thousands of Chinese Web users lauded Qu's heroic efforts.