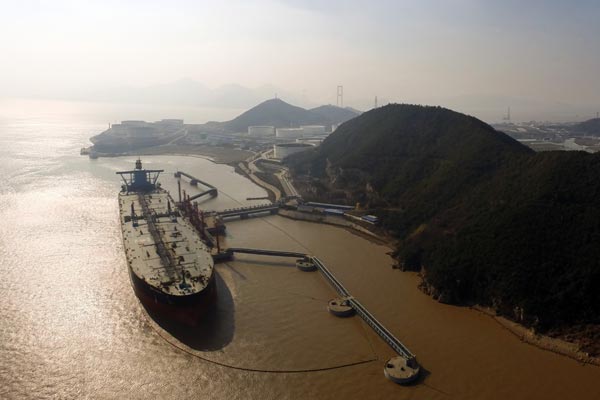 A port in Zhoushan, Zhejiang province, receives an over seas oil tanker on Thursday. China's crude imports are expected to reach 78 million metric tons in the first quarter of the year. [Photo/China Daily] 
Consultancy predicts 4.3% increase in Q1
China's crude imports will grow 4.3 percent year-on-year to some 78 million metric tons during the first quarter of the year as prices remain low, according to a report released by ICIS C1 Energy, a Shanghai energy information consultancy.
Oil companies tend to stock up oil inventories when global prices are low, said ICIS C1, and with the cost of oil dropping more than 55 percent to below $50 a barrel since June, the conditions are right for Chinese companies to buy.
The country's monthly crude imports will remain high at 25-26 million tons during the first quarter, said Sun Yansong, an analyst with the consultancy, and for the whole year, it is predicting refineries will process between 510 and 520 million tons of crude, representing a 3-4 percent rise year-on-year.
She said that with Spring Festival falling in February this year, crude traders are expected to buy well in advance, which could lead to further increased imports.
With no maintenance planned in the first three months at refineries owned by the nation's top oil companies China National Petroleum Corp, the country's largest energy producer and Sinopec Group, Asia's biggest refiner, Sun said crude refining out puts should rise 1-1.5 percent during the period compared with last year.
Li Li, research director at ICIS C1, said the major domestic refineries are running at 80 percent of capacity and are un willing to cut that.
"Although the downstream oil products market is weak, profits are still at a satisfying level because of low crude prices," said Li.
Since crude prices started plunging in June 2014, China's imports have been growing monthly. ICIS C1 figures show crude imports in creased from 23.75 million tons in July to 25.41 million tons in November, and for the first 11 months of last year they rose 9 percent in total to 278 million tons.
A senior Sinopec official, who declined to be named, said it is a natural market practice for companies to increase stocks of imported crude when the price is low.
The Chinese authorities have been working on increasing strategic crude inventories to ensure energy security.
The National Bureau of Statistics reported in November that the country's national crude inventory reached 91 million barrels, the equivalent of nine days' consumption.