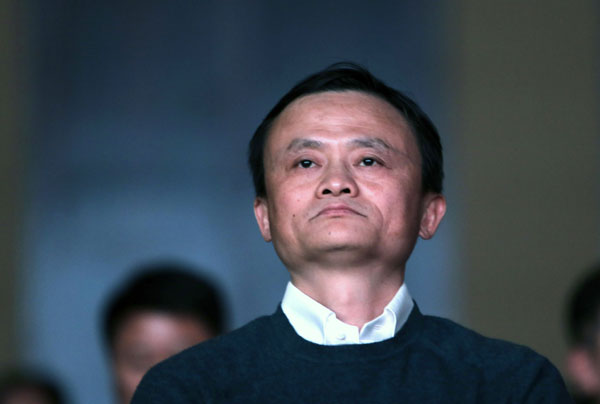 Alibaba Group Executive Chairman Jack Ma attends the Fifth Conference of Zhejiang Chamber of Commerce in Beijing, Dec 6, 2014. Ma was awarded Honorary Chairman of Zhejiang Chamber of Commerce during the conference. [Photo/Agencies]
Jack Ma, the founder of Alibaba Group Holding Ltd, China's biggest e-commerce company, has passed Li Ka-shing, the Hong Kong property and ports tycoon, as Asia's richest person, according to the Bloomberg Billionaires Index.
"I am nothing but happy when young people from China do well," said Li through a spokeswoman in Hong Kong. A spokesman at Alibaba declined to comment on Ma's net worth.
Ma, a former English teacher who started Alibaba in 1999, has added $25 billion to his fortune this year, riding a 54 percent surge in the company's shares since its September initial public offering.
He has a $28.6 billion fortune, according to the Bloomberg ranking. Li has a net worth of $28.3 billion.
"The billionaires in China are growing their wealth faster because China's economy is still developing, with plenty of room for growth," said Francis Ying, an analyst at Yuanta Research. "Hong Kong is already a mature market."
Alibaba's $259 billion market capitalization makes it larger than Amazon.com Inc and EBay Inc combined and more valuable than all but eight companies in the Standard & Poor's 500 Index.
More than half of Ma's wealth comes from his 6.3 percent stake of Alibaba, which is valued at $16.3 billion. He also controls almost half of the closely held finance unit and is owner of Alipay, a service similar to PayPal.
Ma's interest in the online-payment company is expected to be diluted in the next three to five years with new investors or stock distributions to employees. Ma will not realize any economic benefit from the dilution, Alibaba has said.
Alibaba raised a record $25 billion in its Sept 18 IPO, selling shares for $68 each. The American depositary receipts rose 1.05 percent to $104.97 at the close in New York on Thursday.
"If you look at the whole Chinese Internet space as a group, it's definitely getting very significant," said Tony Chu, a money manager for RS Investment, which oversees about $22.3 billion. Alibaba has become "a global stock that you cannot ignore," he said.
The fortune of Li, who controls Cheung Kong Holdings Ltd, one of the world's three biggest property developers, has fallen $1.9 billion this year, according to Bloomberg.