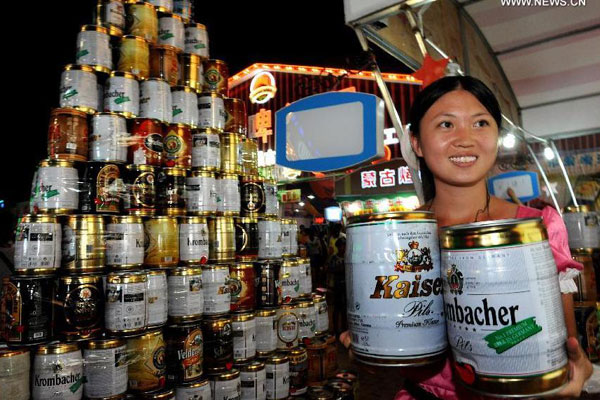 A waitress serves beers for customers during the 23rd Qingdao International Beer Festival in Qingdao, East China's Shandong province, Aug 25, 2013. [Photo/Xinhua]
MILAN - China is gaining in importance in the international spirit, beer and wine market, Dagong Europe, the Milan-based European branch of Chinese rating agency Dagong Global, said in a new report published Wednesday.
According to the report, Europe is challenged by subdued macroeconomic environment and declining alcohol consumption, with its leadership as the world's largest alcoholic beverages market being chased by Asia.
The value of today's global alcoholic beverage industry, estimated at around $1.5 trillion, is generated 36 percent by Europe, 28 percent by Asia and 36 percent by North America.
In the past decade, however, while the European market has been declining by an average of 0.9 percent year on year, the Asian alcoholic beverage market has grown by 3.9 percent year on year, Dagong Europe noted.
In particular, China was gaining in importance in the global alcoholic beverages market, Richard Miratsky, sector head of the Corporates Analytical Team at Dagong Europe, commented.
"Despite a drop in premium and super-premium spirits caused by the recent anti-extravaganza campaign, large international manufacturers were continuing to enter strategic alliances with Chinese manufacturers," he elaborated.
China's wine segment in particular was expected by Dagong Europe to offer high growth potential, with opportunities for European winemakers supported by high demand, favorable import duty regulation and increasing free-trade agreements.
The report said China today consumes 0.38 liters of wine per person per year, which is very low compared to 42 liters in Portugal and 38 liters in France. However, its 38 million wine consumers make China the fifth largest wine market globally, after the United States, Italy, France and Germany.
China leads red wine consumption, with 1.86 billion bottles sold in 2013, up 136 percent versus the previous year, according to the report. In the 2007-2013 period, the red wine market grew by 175.4 percent in China, while it declined by 5.8 percent in Italy and 18 percent in France.
Since China's entry to the World Trade Organization (WTO) in 2001, custom duties on wine imports have significantly dropped, and several commercial agreements have been signed between China and wine manufacturing countries.
China has become the target of premium Italian and French wine manufacturers, who have been strongly investing in promotion. At present, 80 percent of the wine consumed in China is produced by local manufacturers and only 20 percent is imported, but the import rate was growing and Dagong Europe expected the trend to continue.