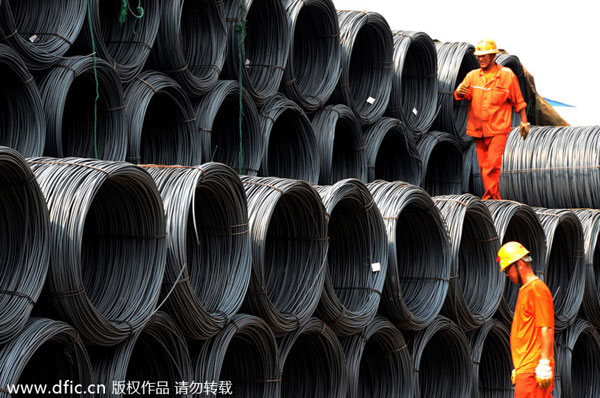 Chinese workers examine coiled steel rods to be shipped abroad at the Port of Lianyungang in Lianyungang, east Chinas Jiangsu province, 20 September 2013. [Photo/IC]
China's steel firms must change if they want to avoid more hard times, said Zhu Jimin, head of the China Iron and Steel Association (CISA) on Saturday.
The warning comes at a hard time for steel makers. In the first nine months, a quarter of China's steel makers operated at a loss, according to the latest CISA figures. Revenues of large and medium steel companies dipped to 2.7 trillion yuan (439 billion U.S. dollars) in the January-September period.
The steel sector is entering its "new normal", just like the whole economy; slower but higher-quality growth. Zhu attributes the bad days mainly to this new normal, which is likely to lead to shrinking steel production and consumption.
The industry also faces challenges from higher environmental protection standards, as the newly-amended environmental protection law takes effect on Jan.1, 2015.
Currently the environmental protection costs of advanced steel companies stand at 130 yuan per tonne, but a few backward companies are only paying 10 yuan to 20 yuan per tonne on pollution control.
Zhu expected China's steel output in 2014 to increase by a mere 2 percent, compared to the expected 7.4 percent for the economy as a whole.