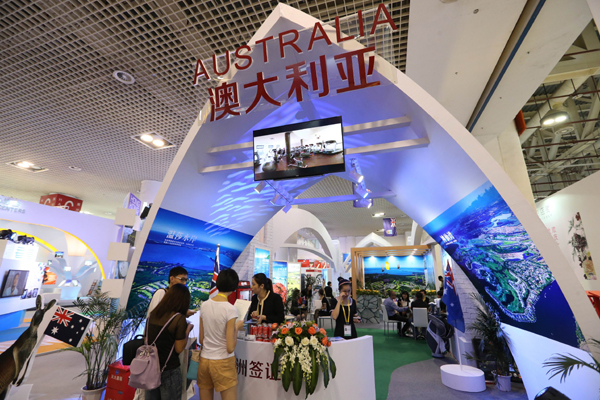 The Australia Pavilion at the 18th China International Fair for Investment and Trade, which was held in September in Xiamen, Fujian province. Direct financial connections between China and Australia are set to grow in the coming years due to a strong bilateral trade relationship. [Provided to China Daily]
Direct financial connections between China and Australia are few, but they are set to increase in coming years because there is already a strong bilateral trade relationship between the two countries, Paul Bloxham, chief economist for Australia and New Zealand at HSBC Bank Australia Ltd, told China Daily.
In 2013, the Chinese mainland and Hong Kong together accounted for 3.4 percent of total foreign investment in Australia. The mainland itself represented only 1.3 percent of foreign investment in Australia, although this was up from 0.3 percent 10 years earlier.
On the other side of the balance sheet, Australia's investment in China was even lower, despite the fact that 35 percent of its exports go to China. Its investment in China was A$30 billion ($26.8 billion) in 2013, up from more than A$10 billion in 2010.
But bilateral financial links are growing quickly. Over the past eight years, there has been a very large pickup in overseas direct investment in Australia by China, Bloxham said.
Data on large foreign investment deals from the United States-based Heritage Foundation show that Chinese overseas investment into Australia totaled $55.9 billion between 2005 and the first half of 2013, which was more than any other country over this period.
In the early part of that period, a lot of the investment went into the mining sector because China was seeking to ensure a supply chain.
More recently, it started to become more about investing in agriculture.
"We've seen investments across the spectrum of agricultural products, including dairy and meat. We are going to continue to see this trend of more interest from China in investing in Australia's agricultural sector and probably less interest in the mining sector, because a lot of the mining investments have already happened.
"The food story is the one where China is seemingly looking to do more global investment," he said.
Many of Australia's agricultural exports go to China. Three-quarters of Australian wool and two-fifths of its cotton go to China, which is also one of the leading destinations for Australia's dairy exports. Bloxham said he expected further growth in demand for finer foods such as meat, dairy, sugar and edible oil.
In a report published in July, he said: "The opportunities to make use of Asian savings are substantial, parti-cularly from China. China is seeking to rapidly open up its financial system and part of the plan is to boost overseas direct investment significantly."
Although the Chinese economy has weakened in the third quarter, Bloxham said that economic growth should pick up in the fourth quarter and China will manage to achieve 7.5 percent growth this year.
"Even though growth is slower than it used to be, China is a whole lot bigger than it used to be. The market here is still growing very rapidly in terms of both opportunities for Australians to invest in China and for the Chinese interested in Australia. That story has got a long way to run," he said.