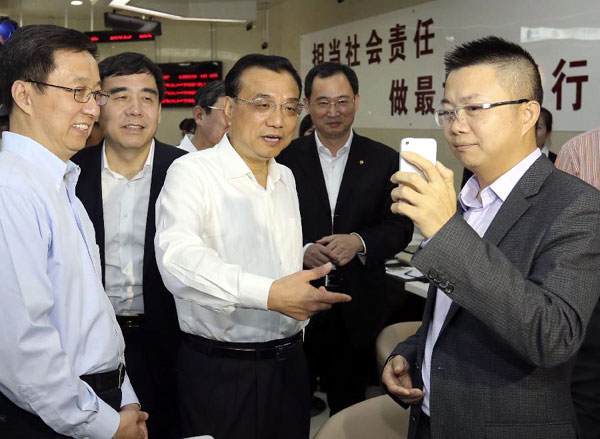 Chinese Premier Li Keqiang (C, front) greets the clients of the Bank of China (BOC) from Hong Kong by a smart phone as he visits a branch of BOC located in the China (Shanghai) Pilot Free Trade Zone (FTZ), East China's Shanghai, Sept 18, 2014. Li Keqiang made an inspection tour of the FTZ from Sept 18 to 19. [Photo/Xinhua]
Premier Li Keqiang pledged on Friday to expand tax rebates to companies operating at inland ports in provinces that lie along the Yangtze River.
He made the pledge during a visit to Shanghai port, a major logistics hub that connects the country's underdeveloped west to overseas markets via China's longest river.
Xing Kangdi, head of the Shanghai Waigaoqiao Bonded Logistics Zone, said at least four inland areas, including Wuhan in Hubei province and Chongqing municipality, are providing tax rebates to trading firms. But not all inland provincial areas along the river are included in the rebate system.
"Shanghai port is like the 'head' of the Yangtze River. Only when the head of the dragon is flexible, can its body and tail be dynamic," Premier Li said as he got a bird's-eye view of containers at the logistics zone.
After the meeting with Xing, Li took a ride throughout the logistics zone, which has operations by leading global logistics companies such as DHL Express, C. Steinweg-Handelsveem BV and Kerry EAS Logistics Ltd.
He also inspected warehouses in the second phase of the zone.
Over the past decade, the annual value of goods entering the bonded logistics zone has exceeded $100 billion. The value of exported goods has exceeded $20 billion, accounting for 60 percent of the total value among all nine logistics zones in China.
Logistics companies in the zone pay about 20 billion yuan ($3.25 billion) in annual taxes, which amounts to 40 percent of the zone's entire tax revenue.