Asset managers see profits soar by about 50% as property market cools
Chinese bad-debt managers saw a profit surge in the first half, helped by an increase in banks' bad loans.
China Huarong Asset Management Co Ltd's first-half profit jumped 57 percent to 11.8 billion yuan ($1.91 billion), while that of China Great Wall Asset Management Co Ltd increased 45 percent to 5.6 billion yuan.
The two are among the four asset management companies that the government set up in 1999 to clean up the problematic loans of the big State-owned lenders. The scope of the AMCs' business has since broadened, but resolving bad loans remains the core of their revenue and profit.
The bad-debt managers' fortunes are based on the misfortunes of Chinese lenders, which are seeing more loans turn sour as economic growth decelerates.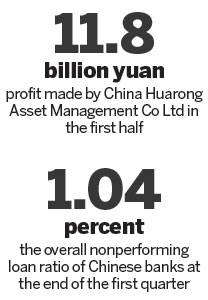 At the end of the first quarter, banks' overall nonperforming loan ratio was 1.04 percent, up 0.04 percentage point, or 54.1 billion yuan, from the end of last year, according to the China Banking Regulatory Commission.
It was the ninth consecutive quarter in which the NPL ratio had increased - and the first time ever that the ratio exceeded 1 percent, according to the commission.
Bank of Communications Co Ltd said in a May 19 report that it expected the NPL ratio to keep growing in the next two to three quarters to average 1.1 to 1.2 percent for the full year.
If economic growth plummets, or property prices drop by more than 20 percent, the ratio could shoot up to 1.3 to 1.5 percent, according to the report. But that would still be low compared with international standards.
Yan Qingmin, vice-chairman of the CBRC, said in a commentary in the Financial News on Tuesday that the cooling property market is the main cause of the rise in NPLs. He urged lenders to speed up the pace of selling their NPLs, which will further boost the business of the four bad debt managers.
Shares of China Cinda Asset Management Co rose 4.6 percent in Hong Kong on Tuesday to HK$4.11 (53 cents). Cinda became the first of the four to go public last year, when it raised $2.5 billion in an initial public offering partly to finance further purchases of bad loans.
Huarong is planning an IPO as well, seeking to strengthen its ability to soak up bad assets. Chairman Lai Xiaomin told the National Business News on Tuesday that Huarong has already reached deals with strategic investors, paving the way for its public offering.