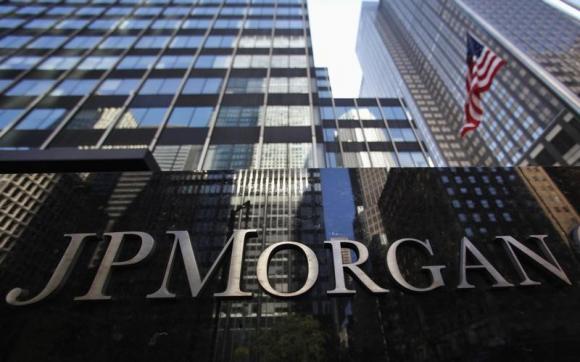 A sign outside the headquarters of JP Morgan Chase & Co in New York, Sept 19, 2013. [Photo/Agencies]
JPMorgan Chase & Co, the biggest US bank, hired UBS AG's former China Chairman David Li to lead the Wall Street firm's operations in the Asian nation.
Li will be responsible for JPMorgan's businesses and products in China, according to a memo, which was confirmed by Marie Cheung, a Hong Kong-based spokeswoman. Li will join JPMorgan in October and be based in Beijing, the document showed.
Li replaces Zili Shao, JPMorgan's former China chairman and chief executive officer, who was named the bank's Asia-Pacific vice-chairman in April.
Fang Fang, the company's CEO of investment banking for China, resigned in March after more than 12 years at the firm amid an investigation by US regulators into its Asian hiring practices.
Shao, who joined JPMorgan in 2009, oversaw a China expansion that included the formation of a domestic securities venture, buying stakes in a trust and a guarantee company, and establishing a locally incorporated bank.
Li spent nine years at Zurich-based UBS and helped set up UBS Securities Co, the firm's Chinese brokerage venture, of which he was chairman until he left the company.
"We've been building the platform and now a strong infrastructure is in place," Nicolas Aguzin, JPMorgan's chairman and CEO for the Asia-Pacific region, said in a phone interview. "The mandate that he has is to really put it all together."
Li, who will report to Aguzin, used to work at Citigroup Inc in New York. He has a master's degree in business administration from the Wharton School at the University of Pennsylvania, according to JPMorgan's memo.
"The fundamental transformation that people expect in China over the next 10 to 15 years will result in substantial opportunities, whether it's renminbi and interest-rate liberalization, the development of the middle class or capital market reform," Aguzin said. "There's so much to do, and that's what he will focus on."
JPMorgan's business in China includes investment banking, asset management and transaction banking. It does most of its wholesale commercial and corporate banking through its locally incorporated lender.
The US probes that started last year posed hurdles to JPMorgan's involvement in at least two China investment-banking transactions.
The bank quit China Everbright Bank Co's $3 billion Hong Kong share sale in November because the investigation delayed internal approval, according to two people with knowledge of the matter.
In January, it bowed out of Tianhe Chemicals Group Ltd's initial public offering as questions arose over the bank's previous employment of the daughter of Tianhe's chairman, two people with knowledge of the matter said.
JPMorgan, the world's biggest investment bank by fees last year, said in August that the Securities and Exchange Commission had sought information about its employment of certain people in Hong Kong and client relationships. The bank hasn't been charged with any wrongdoing.