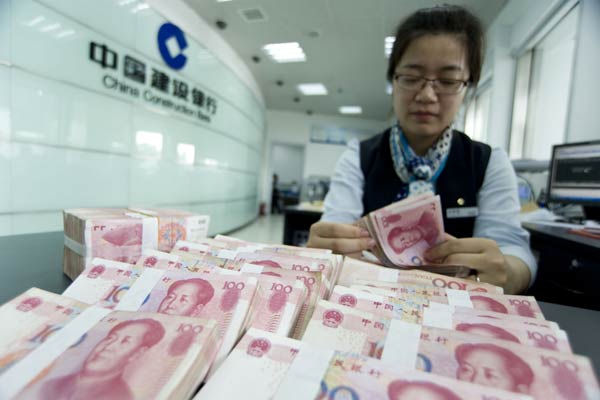 An employee counts banknotes at a China Construction Bank Corp branch in Haian, Jiangsu province. The banking regulator has adjusted the loan-to-deposit ratio for commercial lenders in a move to shore up the economy.XU JUNBAI/CHINA DAILY
Regulator relaxes key lending ratio in a measure to boost economy
China's banking regulator said on Monday it was allowing lenders to make more loans through a modification in the way a key regulatory ratio is calculated.
The China Banking Regulatory Commission changed the way lenders calculate their loan-to-deposit ratio-a key banking liquidity indicator calculated by dividing a bank's total loans by its total deposits-by narrowing the scope of loans and widening the scope of deposits applicable to the ratio, according to a statement posted on the CBRC's website.
The modification will result in lenders having a lower ratio than they otherwise would have, thus giving them more latitude in extending loans. The new rules go into effect from Tuesday.
At the end of March, Chinese lenders' loan-to-deposit ratio stood at 65.89 percent, down 0.18 percentage point from the end of last year and 9.11 percentage points under the regulatory red line of 75 percent.
The change dovetails with Beijing's broader policy target of supporting growth by making bank loans more accessible instead of through increased shadow banking activity, which contains risks given a lack of regulatory oversight and disclosure.
In the first five months of the year, Chinese banks extended 4.66 trillion yuan ($751 billion) in local currency loans, up 10.7 percent from the 4.21 trillion yuan of the same period last year, according to the central bank.
Total social financing, China's broadest measure of lending that includes shadow banking activities such as trust loans and entrusted loans, stood at 8.58 trillion yuan in the first five months of the year, down 5.9 percent from the 9.12 trillion yuan from a year earlier.
In May, the proportion of new loans in total social financing reached a high of 62.2 percent, up from 56.4 percent in May of last year, underlining the fact that such lending plays an increasing part in the economy's financing activities.