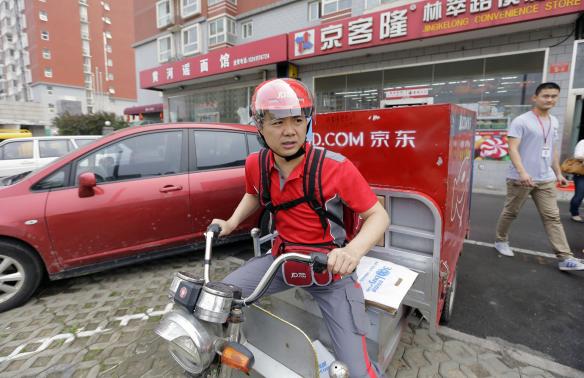 Richard Liu, CEO and founder of China's e-commerce company JD.com, rides an electric tricycle as he leaves a delivery station to deliver goods for customers to celebrate the anniversary of the founding of the company, in Beijing, June 16, 2014. [Photo/Agencies]
With an iron grip, JD.com Inc founder Richard Liu has dragged China's number two online retailer from a Beijing backwater to a rich New York listing. Beyond the wealth that brought him lies Liu's next target - beating Jack Ma's Alibaba.
"The competition makes the two companies stronger," said Liu, a billionaire at 41. "I'm actually enjoying competing," the chief executive told Reuters in an interview.
On top of shares in a $37 billion company that mean he's now worth close to $8 billion, Liu still controls 84 percent of voting rights at JD.com. If that causes corporate governance concerns, it makes his resolve to take on his biggest competitor, the Alibaba Group Holding Ltd e-commerce juggernaut co-founded by Ma, all the more personal.
"He has this ambition to win... He says there's only number one, there's no number two," said Kathy Xu, founder and managing partner of Capital Today Group. Xu, one of China's most successful venture capitalists, put $10 million into JD.com in 2006: Her investment's now worth 110 times that amount.
Like Amazon.com Inc, JD.com has a logistics-focused e-commerce business. The company, whose delivery staff outnumber Alibaba's 22,000 employees, promises same-day delivery in 43 of China's biggest cities.
That sets it apart from Alibaba, which still depends on China's often unreliable postal infrastructure to get goods to its customers' doors as it accounts for about 80 percent of all e-commerce in China.
"It's who can give customers the best experience, they're the one who'll succeed and achieve ultimate victory," said Liu. According to iResearch, China's e-commerce market will grow nearly two-thirds to 4.45 trillion yuan ($717 billion) in 2017 from 1.84 trillion yuan in 2013.
Like Amazon in its early days, it could also take JD.com time to build a record of lasting profitability. In 2013, the company only scraped a net income of $36 million with the help of Chinese government subsidies, after total losses of more than $430 million for the two previous years.
As Alibaba lines up it own mammoth IPO, investors have instead focused on JD.com's outsized sales growth, with revenue tripling to 69.3 billion yuan ($11.2 billion) in 2013 from two years earlier. Also encouraged by its close ties with Chinese internet giant Tencent Holdings Ltd - Alibaba's arch-rival - investors have pushed JD.com's share price around a third higher since its initial public offering last month.