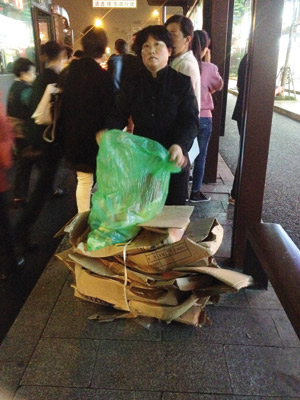 Yuan Laifen
Yuan Laifen has lived in Hangzhou for 11 years. Her job is collecting used newspapers, paper boxes and other waste door to door and selling them to recycling factories.
Living in a suburban area where rent is low, Yuan gets up at 4:30 am every day to catch the earliest bus to downtown Hangzhou. She picks an area, walking into office buildings and apartment blocks, knocking on doors to collect waste paper. She is not home until more than 17 hours later, at 10 pm.
Her meals are steamed buns or bread that she takes with her, because eating in restaurants is too expensive.
It is still spring, but Yuan, 41, carries a towel with her to wipe off sweat.
"When papers get thicker and heavier, you sweat even in winter when you carry them."
Waste paper is very heavy and she collects at least 100 kg every day, she says. It may be partly due to this onerous workload that she looks older than her 41 years.
"Strength is all I have," she says.
Yuan pays 1 yuan ($0.16; 0.12 euros) for 1 kg of waste, and sells it to a recycling factory for 1.6 yuan. Sometimes people will let her have the waste free of charge.
"Some people are very nice, especially the elderly, but some just slam the door in my face."
But having done the job for five years, she says, she is used to the treatment, good or bad.
"They don't treat me well, but that's OK. After all, they're from the city and I come from a poor village," she says, looking down at her stained overcoat, which seems to be her refuge in moments of embarrassment. She rubs it with her left hand.