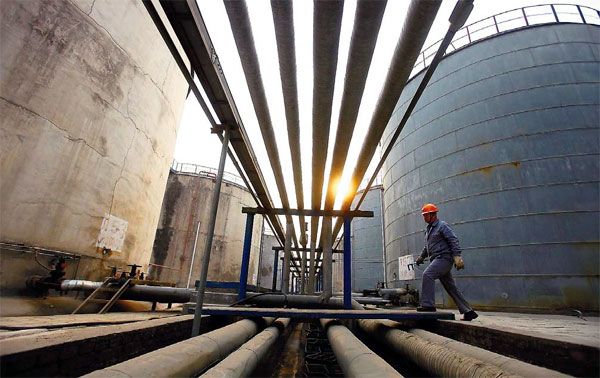 A subsidiary of China National Petrol
eu
m Corp in Lanzhou, Gansu province.[File photo / Provided to China Daily]
The overseas oil and gas output of China National Petroleum Corp - the country's largest energy producer - was more than 100 million metric tons for the first time ever in 2013, as the company is boosting its international presence.
CNPC said on Friday that its total overseas oil and gas operational output for last year was 123 million tons, up 18.1 percent year-on-year, with its equity share of that at 59.2 million tons.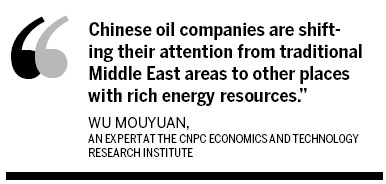 Zhou Jiping, CNPC's chairman, said at the company's annual working conference on Thursday that 2013 was a special year with many challenges.
"Amid falling international oil prices and with many counterparts facing declining profits, CNPC achieved an increase in both revenue and profits," he said. "The total domestic and overseas oil and gas output reached 300 million tons, a record high."
The company's overseas business has been the main driver behind the increase of its oil and gas output in recent years.
CNPC sold 350 million tons of oil and gas in 2013, up 15.4 percent year-on-year, with a trading volume of $266 billion, an increase of 10.9 percent compared with the previous year, it said.
Liao Yongyuan, CNPC's general manager, said the company is targeting a production of 329.67 million tons of oil and gas equivalent in 2014.
"Overseas output will continue to increase with annual growth of more than 10 percent in 2014," Liao said.
The acquisition of foreign oil and gas fields boosted CNPC's overseas performance last year.
The company made M&A deals worth $14.9 billion to acquire foreign assets in 2013, making it the oil company that spent the most among Chinese peers, according to a report from the CNPC Economics and Technology Research Institute.
In March, CNPC bought a 29 percent stake in Eni East Africa, through which it got a 20 percent stake in the block Area 4 in Mozambique, entering the most promising area for oil development in eastern Africa.
In September, CNPC spent $5 billion to acquire an 8 percent stake in the Kashagan oil field in Kazakhstan, further boosting its presence in that region.
In November, it paid $2.6 billion for Peruvian oil and gas assets owned by Brazil's Petroleo Brasileiro SA.
"Chinese oil companies are shifting their attention from traditional Middle East areas to other places with rich energy resources," said Wu Mouyuan, an expert at the CNPC Economics and Technology Research Institute.