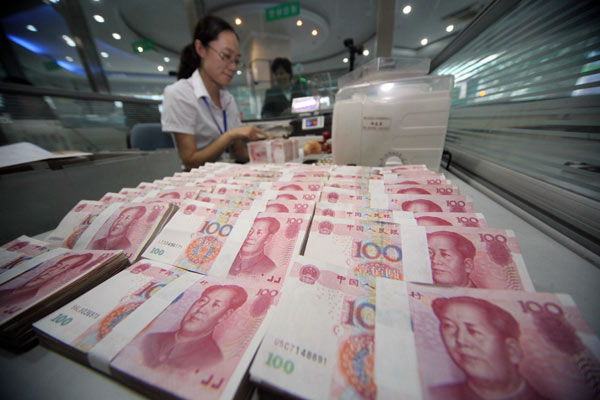 A clerk counts money at a bank in Ganyu, Jiangsu province.  SI WEI / FOR CHINA DAILY 
BEIJING - While the Chinese currency Renminbi, or the yuan, continues its upward trend against the US dollar, economic pundits have warned that to expect and demand more RMB appreciation in 2014 invites trouble.
China's yuan gained a solid 3.09 percent against the dollar in 2013, official data showed on Wednesday. The yuan ended last year 6.0969 against the greenback and has climbed higher in the first two weeks of 2014, with a record high of 6.0930 posted on Tuesday.
Breaking the 6.0000 key level will happen sooner or later, traders and analysts forecast.
The key levels of 8.0000 and 7.0000 were broken in 2006 and 2008 respectively.
Though the yuan's appreciation is worrisome, a habitual thinking that it will march onto higher territories breeds more trouble, said Tan Yaling, president of the China Forex Investment Research Institute, noting an increased preference among investors for profiteering through holding RMB rather than putting it in the market to support the real economy.
Stronger RMB risky
Though China has made noticeable headway to allow its currency to float freely resulting in a costlier yuan, analysts said a stronger RMB is not a cure for the world's economic malaise and poses challenges for the country's reform efforts.
The yuan's appreciation in the international market has been coupled with a de facto depreciation in the domestic market. The Chinese now have perennial complaints about how little one yuan can buy.