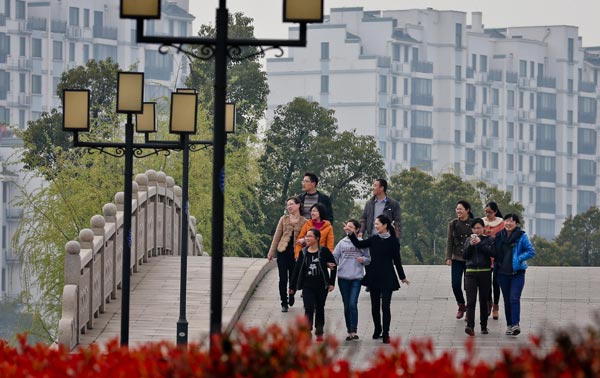 Yonglian village, which used to be a backward place near the Yangtze River in Jiangsu province, is taking on a new look thanks to the country's urbanization program. A report on China's financing of the urbanization drive said there will be demand for 2.3 billion square meters of homes through 2020. Yang Lei / Xinhua
Urbanization has different implications for different property developers. But one thing for sure is that the new type of urbanization is not merely building homes.
Industry analysts said there are mainly two approaches for property developers to jump on the bandwagon of urbanization: offering more facilities and services to better meet customers' demands when building new communities and new towns and building industrial parks and upgrading industries to support the development of new cities.
Vanke Co Ltd, China's largest developer in terms of market value, for instance, would like to be a more service-based company to better meet different demands from its community residents.
"Resources integration and management innovation will be two major growth drivers for Vanke in the coming years," Mao Daqing, Vanke's vice-president told a forum held by house.china.com.cn.
The company is running several lines of business in the commercial real estate sector this year, including setting up community canteens, vegetable markets, convenience stores and large shopping malls - all of which are aimed at providing better services for residents in Vanke's communities. Looking forward, Vanke will explore more opportunities in the aging community in 2014, Mao said.
Other developers sharing similar thinking with Vanke include PKU Resources Group.
As a property developer partly owned by the Founder Group, it is working on a platform to integrate educational, healthcare, financial and shopping services for its residents.
Yu Li, president of PKU Resources, said that customers not only want apartments but also better services - and that the company will make a concerted effort to integrate the resources of Peking University and of the Founder Group to better serve its clients.
This is also in line with the government's aspiration to achieve a quality-based, human-centered and green urbanization. It should focus on improving urban residents' living standards, the statement from the central government's urbanization work conference said.
China's urbanization rate reached 52 percent in 2012. According to a white paper on the investment and financing of urbanization, which is co-developed by the real estate finance department of Ping An Bank and Peking University, there will be a demand for 2.3 billion square meters of homes through 2020.
Furthermore, the housing demand will hit 1.46 billion square meters in 2012, indicating a 46 percent growth potential given the existing transaction floor space of 1 billion sq m.
Chen Guoqiang, head of the Real Estate Research Institute at Peking University, said property developers should do more research in developing quality products to better meet customers' demands.
A report conducted by McKinsey Global Institute showed that China's urban population will grow from 63 million in 2010 to reach 990 million in 2030. Cities with a population exceeding 1 million are likely to increase from 153 to 226 in the period.