Move will draw private capital and inject new vitality into industry
The Ministry of Industry and Information Technology officially issued the first group of licenses for mobile virtual network operators on Thursday, allowing private domestic companies to offer repackaged mobile services.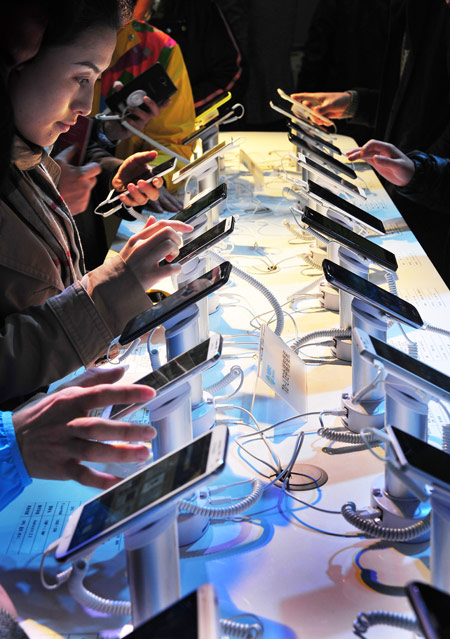 People try out mobile handsets at a store in Guangzhou, Guangdong province. The government issued licenses for virtual network services to 11 privately owned operators on Thursday. LU HANXIN / XIN\HUA
According to an announcement on MIIT's website, 11 companies — including an Internet service subsidiary of Alibaba Group Holding Ltd, as well as e-commerce giant Beijing Jingdong Century Trading Co Ltd (JD) and mobile phone retail chain store D.Phone Group — received mobile virtual network operator licenses.
Encouraging private capital to enter the nation's telecom industry, the ministry said, will inject new vitality into the market and bring further prosperity to the sector.
At the same time, Chinese consumers will have more service choices and a better user experience, the ministry added.
"We will continuously explore areas in which domestic companies can be further involved in China's basic telecom service sector," said Miao Wei, head of the MIIT, at a November meeting.
The MIIT won't restrict the total number of mobile virtual network operators through a two-year trial period ending on Dec 31, 2015, but companies must submit applications by July 2014.
"Every qualified enterprise can receive permission," the announcement said.
China has long considered opening up its basic telecom services market, which includes telecom network operations, call services and broadband connections.
However, State-owned telecom carriers still have a tight hold on the market. Private companies and foreign enterprises only have limited businesses focusing on value-added telecom services.
The MIIT published draft proposals on allowing Chinese private companies to buy mobile network resources from the nation's three telecom operators in January this year.
The proposals became official policy in May, allowing private enterprises to rebrand mobile services and sell them to customers under a two-year trial.
In an e-mail to China Daily, JD said it had signed strategic partnership agreements with China Unicom (Hong Kong) Ltd and China Telecom Corp Ltd. JD will build up its own telecom services, including voice services, short messages and mobile data packages.
"JD aims to become China's biggest mobile virtual telecom operator, or the fourth-largest telecom carrier after China Mobile Ltd, China Unicom and China Telecom," said Zhao Guoqing, vice-chairman of JD.
JD's advantages, according to Zhao, are that the company has more than 140 million registered users, mostly aged between 23 and 45, who are the key consumers for mobile phones in China.
Alibaba said it aims to team up with all telecom carriers and work in close collaboration with them to provide the best telecommunications services.
In developed economies such as the United States and Japan, virtual network operators have legally existed for a long time. Their participation diversifies products and services and helps lower customers' costs.
Yang Guang, senior analyst with research firm Strategy Analytics, said traditional telecom operators are set for both gains and losses.
New mobile virtual network operators "will compete with the three network operators directly. This may exert huge pressure on the retail services of all three Chinese operators," Yang said.
But telecom carriers can also leverage the new operators' distribution channels, brands and customer relationships to develop new market segments, Yang pointed out.
"In the long term, competition from and innovations by MVNO players will improve the performance of the mobile communication market in China and benefit the whole industry chain, including network operators," Yang said.
Being the challengers in the market, China Telecom and China Unicom should have stronger motivation to cooperate with MVNO players than China Mobile, according to a report from Strategy Analytics.
China Mobile, as the market leader, looks a bit reluctant to cooperate with MVNO players. According to the MIIT, none of the 11 private companies had signed agreements with China Mobile.
Li Jun, a spokesman for China Mobile, told China Daily that the company is completing cooperation negotiations with 17 domestic private companies and is about to apply for licenses from the government.
Considering China Mobile's ambitious plans for TD-LTE development, the mobile virtual network operators, particularly those having strong distribution channels, could also be an opportunity to develop the TD-LTE business, analysts said.
Meng Jing and He Wei contributed to this story.