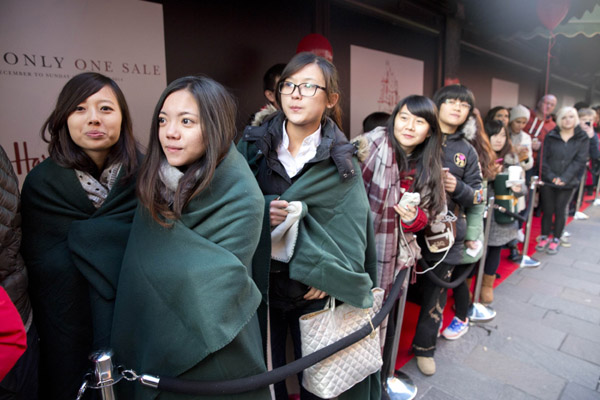 Shoppers queue for the Boxing Day sale at Harrods department store in London December 26, 2013. [Photo/Agencies] 
LONDON - After an initial rush to British retail stores for the Boxing Day sales on Thursday, only 0.5 percent more shoppers showed up than last year, final figures from retail data company Springboard showed.
Overall, 9 percent fewer bargain-hunters visited traditional town centre shops, offset by a 10 percent increase at both shopping centres and retail parks as of 4 pm (1600 GMT).
Early data had shown a rise of 8 percent across the country after many queued early in the morning for bargains but numbers dropped off later for high street shops, Springboard said.
Some stores opened at 6 am in London's main shopping district in the West End and Oxford Street, where over a million people were expected to turn out according to retailers.
Many shops started Britain's traditional "January sales" online on Christmas Eve or Christmas Day to meet increasing demand for earlier and deeper discounting.
Britain's economy has been growing robustly and unemployment has fallen steadily but stagnating wages and rising utility bills are still squeezing living standards.
Department store John Lewis reported record sales for the week before Christmas on Thursday and said that for the first time it expected most British shoppers to use smartphones rather than desktop computers to make online purchases.
It said its sales in the week to Dec 21 were up 4.2 percent on last year at 164.4 million pounds ($270 million), surpassing the 160 million-pound mark for the first time.
The department store will release its five-week trading update on Jan 2.
The retailer also said that on Christmas Day, three in four shoppers used their smartphones or tablets rather than traditional desktops to shop on its site.
"The tipping point has now passed and we expect mobile to be the way the majority of people shop online from now on," said Mark Lewis, online director at John Lewis.