Mobile Internet, social media help boost transactions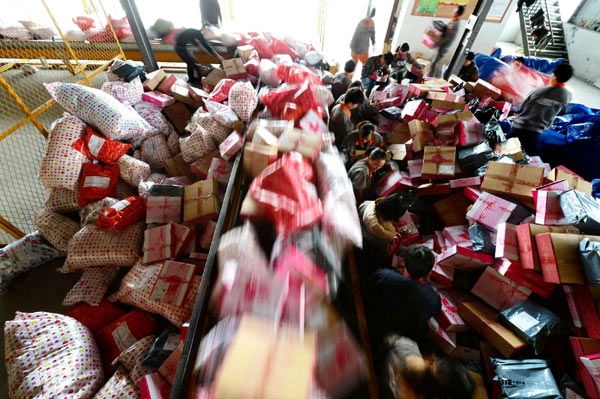 Goods for delivery pile up at a distribution center for courier company Shentong Express in Yangzhou, Jiangsu province, on Monday. Meng Delong / China Daily
China's major e-commerce providers have posted record sales from the Nov 11 "Singles' Day" 24-hour online shopping blowout.
Mobile Internet, social media and overseas users helped boost transactions in an annual extravaganza that made its debut four years ago.
November 11, or 11.11, was proclaimed "Singles' Day" because of the number of ones in the date, with sellers promoting discounts to single people. China had 564 million Internet users at the end of last year and 180 million single people.
Premier Li Keqiang recently told Jack Ma, chairman of Alibaba Group Holding, which coined the term "Double Eleven" and turned it into an annual shopping gala, that the event will kindle China's spending power.
The virtual shopping day, which features heavy discounts by online merchants, got off to a hot start on Monday, with the daily transaction volume expected to easily double that of last year.
E-commerce giant Alibaba surpassed last year's transaction volume after 13 hours' trading.
Alibaba saw 19.1 billion yuan ($3.13 billion) transacted over Alipay, the company's online payment platform, by 1:04 pm, eclipsing last year's overall daily sales generated by the group's business-to-customer site Tmall and customer-to-customer marketplace Taobao.
The number quickly soared to 20 billion yuan over the next 30 minutes.
It recorded more than 1 billion yuan in transactions over Alipay in the six minutes after midnight, a milestone that took an extra 31 minutes to reach last year.
By 9:19 pm, the value of transactions on Tmall and Taobao surpassed 30 billion yuan, up nearly 60 percent on sales for the event last year, as Ma had predicted.
The projected increase is driven in part by China's growing number of mobile Internet users, which research firm Analysys International has forecast will exceed 700 million this year.
More than 120 million buyers have accessed the Taobao mobile app this year.
Purchases via smart devices on Monday reached 1 billion yuan in the first 70 minutes, a significant increase on last year when combined sales through mobile transactions amounted to just 940 million yuan.
Social networking sites such as Sina Weibo, a Twitter-like micro-blogging service in which Alibaba holds stakes, have taken transactions to the next level.
By giving out cash incentives of up to 300 million yuan, Tmall encouraged customers to share cash vouchers with friends via micro blogs.