White-collar setting up stalls become popular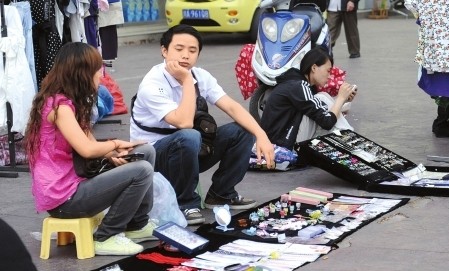 In order to earn more money, more white-collar workers set up stalls at night. [Agencies/Photo]  
Various kinds of street vendors are helping the city become more dynamic; and more and more white-collar workers are now part of this group of small retailers.
According to a recent survey by China Youth Daily, about 79.2 percent of 1,891 interviewees said they saw white-collar workers setting up street stalls. Besides, 68.1 percent said they supported this initiative.
About 35 percent of interviewees come from big cities, 29.5 percent, from midsized cities, 19.8 percent, from small cities, 11.5 percent, from counties and 3.8 percent, from the countryside.
Mr Wu who comes from Henan province, Central China, has lived in Shenzhen for 15 years. He is now an engineering research and development manager in a company. Although he earns more than 10,000 yuan ($1,629) per month, he has been setting up street stalls for eight years.
"The street in front of my house is crowded with various kinds of stalls at night. I sell clothes, snacks and fruits," said Mr Wu. "When business was good, I could earn about 5,000 ($814.5) to 6,000 yuan ($977.4) a month."
He said a white-collar worker setting up stalls is very common in Shenzhen.
"It will cost millions to buy a house. If you rent a house, you have to pay an expensive rent too," said Mr. Wu. "Besides, I have to pay for my child's remedial class fees and living expenses. It would be very tight if I depended on my salary."
A young lady, Sun Jingjing, shares her experience with setting up a stall. She is a receptionist in an information technology company in the Haidian District of Beijing.
"As a stall owner, I can choose goods and decide prices myself. It feels so great," she said.
Although setting up a stall is a small business, vendors can make their own decisions.
As for the reason behind setting up stalls, 69.6 percent of interviewees said it could increase their incomes.
Tang Mengjuan, a career-planning columnist for www.abang.com said income polarization among white-collar workers is very serious. The income of primary white-collar workers is very limited. Living in cities force them to try to increase their income.
Young workers, who set up stalls, want to be free, pursue their own dreams, or try an alternative lifestyle.
However, it is not easy.
"I can't rest during weekends because I have to go very far to purchase goods," said Mr Wu, who decided to rent a store with friends. "Besides, I have to hide from city inspectors."
Sun Jingjing encountered problems too. Her business is not as profitable as before because there are more competitors. She also has less time to rest. Although having a "double career" is exhausting, she doesn't want to give up her "entrepreneurial dream".
"Setting up a stall will cost a lot of energy, which will affect a person's original career," Tang Mengjuan said. "If people find that they can't balance two careers, they have to make a choice. If it is good for their future career goals, they should continue."