Britain seen as gateway to other mature markets for Chinese
Top Chinese contractors are looking to take part in railway projects in the United Kingdom, seeing that as a way to promote their brands in developed economies.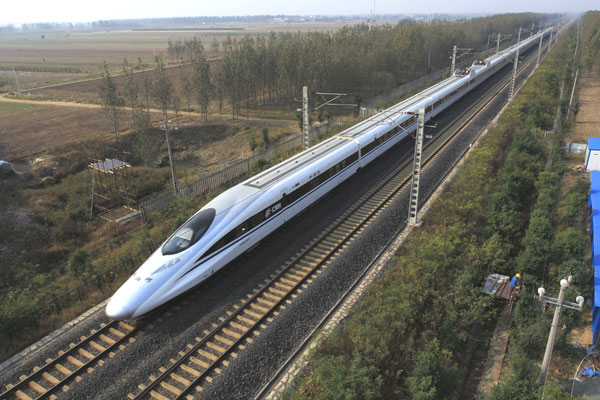 A high-speed train passes through Weifang, Shandong province. Chinese infrastructure companies have already completed projects in developing economies, such as Algeria, Libya and Nigeria. [JIAO HONGTAO / FOR CHINA DAILY]
"We hope we can work on some good railway projects in the UK," said Liu Yuling, general manager of China Civil Engineering Construction Corp, which has built railways in Algeria, Libya, Nigeria and other countries.
His words were echoed by CITIC Construction Co Ltd, another Chinese company, whose projects include a $3.5 billion housing project in Angola.
"We've been looking at the UK market for about a year," said Xu Mingguang, vice-president of the company's investment department. CITIC is considering undertaking large projects concerning transportation, water, and energy, among other things, Xu said.
The proposed cooperation comes on the tail of large investments Chinese companies have made into the UK.
Last week, China Investment Corp, manager of China's sovereign wealth fund, bought shares in Heathrow Airport Holding, the operator of London's Heathrow airport. Before that, in January, it had invested in Thames Water Utilities Ltd, which supplies water services to London and other places in Britain.
Chinese contractors, though, are only starting to work on large projects in developed economies and have not taken part in any in the UK.
That comes in contrast to what they have done in the Middle East and in African countries such as Libya and Nigeria, where they have helped build prominent railways.
A source of strength for Chinese companies is the support they receive from large State-owned Chinese banks, which have been expanding into developed economies.
Even so, they have little experience in investing in developed economies, according to Wang He, chairman of China International Contractors Association. Unlike many developing economies, the UK has long-standing legal, regulatory and technology requirements, and Chinese companies need to make sure they understand those before they bid on projects there.
The UK also has a history of letting foreign companies take part in infrastructure projects. Among the operators of its national railways are companies from Germany and the Netherlands.
Perhaps the greatest opportunity for Chinese companies lies in High Speed Two, a project that is to eventually result in a high-speed railway running from London to possibly as far north as the central belt of Scotland. The project will start around 2015. Robin Groth, deputy director of Rail, Department for Transport, said it is not yet known where the money for the project will come from.
"We are looking at all of the different options," he said. "There are lots of opportunities."
"UK rail has a strong appetite for foreign investment," said Stuart Westgarth of the professional services company KPMG.
Contact the writer at diaoying@chinadaily.com.cn