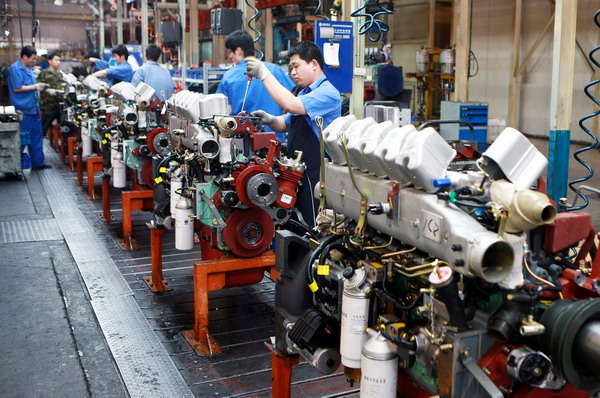 An engine assembly line at Weichai Power Co Ltd in Jinan, Shandong province. Weichai Power and Kion Group GmbH on Monday signed a strategic cooperation agreement through which Weichai will invest 738 million euros ($928 million) in the German forklift maker for a 25 percent stake in Kion and a 70 percent stake in Kion's hydraulics business unit. [Photo/Xinhua]
Chinese automotive and equipment manufacturing company Weichai Power Co Ltd said on Monday that it will pay 738 million euros ($928 million) for a stake in German forklift truck maker Kion Group GmbH and its hydraulics subsidiary, the largest direct investment by a Chinese company in Germany so far.
Related publication: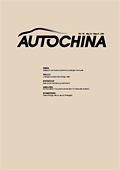 According to the agreement signed by the two sides on Monday, Weichai Power, which is headquartered in Weifang, Shandong province, and is part of the Shandong Heavy Industry Group, will acquire a 25 percent stake in Kion Group, the world's second-largest forklift maker, for 467 million euros, and a 70 percent controlling stake in Kion's subsidiary Linde Hydraulics for 271 million euros, from KKR & Co and Goldman Sachs Group Inc.
"This partnership is an important step in our five-year strategy to globalize and expand our business activities into new markets and products," said Tan Xuguang, board chairman of Weichai Power.
The company acquired 130-year-old French diesel engine and gearbox maker Moteurs Baudouin in 2008, and purchased a 75 percent stake in Italy's Ferretti Group, one of the top builders of luxury yachts in the world, in January.
Analysts said that hydraulics control systems are a bottleneck technology for China's booming equipment manufacturing industry, the largest in the world, which relies heavily on imports, especially in the high-end sector. China's hydraulics control systems imports totaled 30 billion yuan ($4.7 billion) in 2011, and are increasing this year.
The investment in Kion Group will be a shortcut for Weichai Power to master world-leading high-end hydraulics technology and apply it to many industries such as engineering and agricultural machinery, yachts, aviation and aerospace, said analysts.
For more subscription details of AutoChina, please visit our E-Shop.