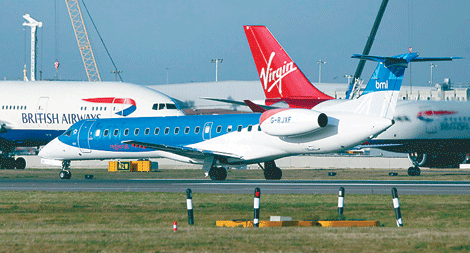 European airlines will post losses due to rising costs and a recession, according to a statement by the International Air Transport Association on Tuesday. [Chris Ratcliffe / Bloomberg]
Price of oil has increased about 12 percent since association's last forecast in December
The airline industry's profit this year will plunge 62 percent, a bigger drop than predicted in December, as fuel prices rise, the International Air Transport Association said.
Carriers' net income will fall to $3 billion in 2012 from $7.9 billion last year, with the profit margin coming in at 0.5 percent of sales, the Geneva- and Montreal-based trade group said on Tuesday in a statement. The IATA forecast on Dec 7 that global airline earnings in 2012 would amount to $3.5 billion, with a margin of 0.6 percent.
The price of oil has climbed about 12 percent since the IATA published its last forecast. Iran has threatened to close the Strait of Hormuz, the main shipping outlet for Persian Gulf countries' oil, in response to international sanctions against its nuclear-research program. The airline industry is at risk of becoming unprofitable if oil prices jump enough to hurt the global economy in addition to fuel-cost effects, the IATA said.
"I must emphasize that the industry is fragile," IATA Chief Executive Officer Tony Tyler said. "It wouldn't take much of a shock to turn a net profit to a loss, and that shock could be oil."
The newest profit-forecast drop was moderated as European Union countries managed to avoid a deepening of the region's sovereign-debt crisis, the cargo market stabilized and carriers slowed their seat capacity growth more than expected, the IATA said. Fuel makes up about a third of airlines' costs, according to the trade group.
The airline industry is generally profitable as long as worldwide GDP increases exceed 2 percent, the estimated growth rate for 2012, Tyler said.
Industrywide passenger and cargo capacity will rise 3.2 percent in 2012, based on announced schedules, a figure that lags behind a 3.6 percent traffic expansion forecast, the IATA said. That's a reversal of expectations in December, when the association anticipated a capacity expansion of 3.1 percent, outstripping a 2.9 percent in demand.
The IATA said in the previous forecast that Europe's sovereign-debt crisis and its effect on economic growth were the biggest threats to airline profitability. The trade body also predicted then that the price of oil would fall to $99 a barrel from an estimated $112 for 2011 as economic growth waned.
"It appears that the worst of the sovereign-debt crisis in Europe has been avoided for now, but it's been replaced by rising oil prices as the No 1 risk the industry faces," Tyler said.
Airlines will be profitable on average in most regions this year, though the industry will post losses in Europe and Africa, the IATA said. African carriers are hurt by "very low" capacity use, while "many European economies are in deep recession", with taxes and a new carbon-emissions trading program adding to airlines' costs in the region, it said.
The IATA is hopeful the European Union will soften its position on carbon-emissions curbs to allow for a global agreement amid protests from carriers in the region and the threat of retaliation by non-EU countries, Tyler said.
Air France-KLM Group, Europe's biggest airline, said on March 8 that an uncertain economic outlook and rising fuel prices would cause its first-half operating result to be "well below that of the previous year". The Paris-based airline reported a net loss of 809 million euros ($1.06 billion) for 2011.
International Consolidated Airlines Group SA, the parent company of British Airways and Spain's Iberia, said on Feb 29 that growth in oil prices would crimp first-half earnings, and add 1 billion euros to its fuel costs this year.
Bloomberg News in London and Toulouse, France