Tunhe, Unilever seek sustainable growth
Updated: 2011-08-17 10:23
By Du Juan (China Daily)
| | | | | | | | | | | |
| --- | --- | --- | --- | --- | --- | --- | --- | --- | --- | --- |
|   | | Comments() | | Print | | Mail | | Large Medium  Small | 分享按钮 | 0 |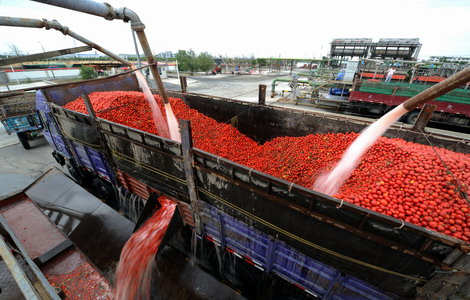 A tomato processing factory in Changji, Xinjiang Uygur autonomous region. The region's agribusiness sector is seeking more sustainable ways of doing business. [Photo / China Daily]
CHANGJI, Xinjiang - China Oil & Foodstuffs Corp (COFCO) Tunhe Co Ltd said it is working with Unilever (China) Co Ltd to improve irrigation systems in its tomato fields in Xinjiang Uygur autonomous region, a major Chinese agricultural base.
It said it has invested 168 million yuan ($26 million) in water-saving irrigation systems in the region.
For its part, Unilever has sent scientists to train farmers in the efficient use of fertilizers, which has helped increase crop output, said Liang Xia, a field manager at the local Changji Tomato Production Co Ltd.
Liang said local farming practices had been very polluting because of the extensive use of fertilizer, which was wasteful and harmful to the land.
"The most important change is that local farmers began to understand the concepts of ecological agriculture and international planting standards," Liang said.
"Our products are mostly for export. We must strictly follow the planting standards, including when and how to sow, water, fertilize and harvest. Only by doing this can our business grow bigger."
To meet Unilever's purchasing standards, COFCO Tunhe adopted drip irrigation methods in 80 to 90 percent of its tomato farmland in Xinjiang, which cost 300 yuan a mu (0.067 hectare), according to the company.
"By using drip irrigation to replace flood irrigation, we can save 20 tons of water a year for each hectare," said Qin Yelong, president of COFCO Tunhe.
He said most of the investment in water-conservation irrigation had come from the company, with contributions from the local government and individual farmers.
Qin said that an ordinary tomato farmer made about 10,000 yuan a year in the past, but incomes had tripled because of new agricultural techniques and higher quality production.
The next step for Unilever and COFCO Tunhe is to expand sustainable farming into more fields to improve food quality and safety and provide the ability to trace 100 percent of the food products.
The money is available, "but the more difficult thing is to change farmers' concept of planting. Every step of planting needs to be recorded to ensure safe production", said Zeng. "It might be a little difficult at the beginning. However, it will be beneficial for both the locals and companies in the long run."
"Sustainable agriculture will in fact bring long-term benefits to the company as well as consumers, even though it will increase costs," said Wu Liang, strategic communications director of Unilever China.
As part of the sustainable agricultural development plan, Unilever launched a sustainable living plan that set 50 targets for the whole business. The plan aims to reduce the environmental effect of farming and achieve 100 percent sustainable sowing of agricultural raw materials.
COFCO Tunhe has 30,000 hectares of tomato farmland in Xinjiang, accounting for 75 percent of the company's tomato fields in China. Unilever China is one of the biggest purchasers of COFCO Tunhe's produce.
Unilever bought 20,000 tons of tomatoes last year from COFCO Tunhe.
Xinjiang has total tomato farmland of 666,670 hectares, producing 90 percent of the country's tomatoes.
China became the third-largest tomato producer after the US and Italy in 2009, when the tomato crop in Xinjiang reached 1.02 million tons.
"Xinjiang's tomato planting is the first tomato demonstration project of Unilever's sustainable agriculture program in China," said Zeng Xiwen, vice-president of Corporate Affairs of Unilever China.
"We have sent technical and agricultural experts to Xinjiang to help the tomato farmers master advanced planting concepts and methods, which is also beneficial for the environment."