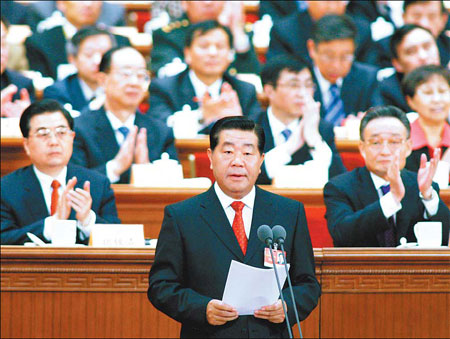 Jia Qinglin, chairman of the CPPCC National Committee, gives his speech at the closing ceremony of the sessions at the Great Hall of the People in Beijing yesterday. Yang Shizhong
The second session of the 11th National Committee of the Chinese People's Political Consultative Conference (CPPCC) concluded yesterday, after 10 days of discussion and debate on the country's pressing issues.
Related readings:


 CPPCC concludes annual session


 Top advisory body to conclude session


 CPPCC press conference on economical growth


Chairman of the CPPCC National Committee Jia Qinglin presided over the ceremony, pledging efforts to maintain steady and relatively rapid economic development in 2009.
Top Communist Party of China (CPC) and State leaders Hu Jintao, Wu Bangguo, Wen Jiabao, Li Changchun, Xi Jinping, Li Keqiang, He Guoqiang and Zhou Yongkang attended the closing ceremony.
The meeting adopted the annual work report of the 11th CPPCC National Committee's Standing Committee, and the report detailing how CPPCC members' suggestions and proposals from the last session had been handled.
For Ling Feng, a neurosurgeon with Beijing Xuanwu Hospital, the session's conclusion - arriving two days earlier than in most years - came "both too quickly and too slowly".
"I felt extremely busy throughout the whole session," Ling said after the closing ceremony.
"But in some ways, I am still ready for the session to continue."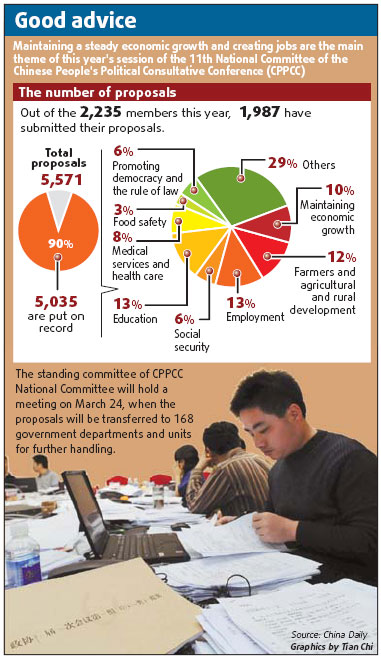 As a member of the committee for handling proposals, Ling was responsible for dealing with members' proposals in addition to her usual CPPCC duties.
By 2 pm on March 8, a total of 1,987 members had submitted 5,571 proposals on economic development, governmental reform, democracy, the legal system and other fields, the committee said.
Liang said going through all the proposals was tedious for the committee but still "far from stressful". This was because most proposals "struck a cord" with her, she said.
"In fact, most people would hear their own voices in these proposals," she said.
"This year's proposals attached greater importance than ever to issues related to people's wellbeing."
Ling said that as a doctor, she is very concerned about the country's ongoing healthcare reform, especially providing medical care for the rural poor.
She was also concerned with the worsening global financial crisis and its impact on migrant workers.
She was encouraged to find 426 proposals were related to healthcare, 551 were on maintaining economic growth and 632 addressed employment. There were also 301 on social security, 657 on education, 146 on food safety, and 294 about promoting democracy and the rule of law.
The proposals will be transferred to 168 government departments and units for further handling on March 24.
The adoption of a paperless filing system has made handling the proposals more efficient, Ling said.
For the first time, every CPPCC member was provided with a laptop and a flash disk to minimize paper waste. Every member could submit proposals with software installed on the laptops.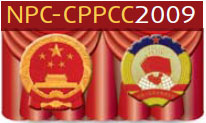 But many questioned whether or not the use of laptops was wasteful because the laptops were collected at the session's close and will not be used again until next year's meeting.
Xiong Sidong, a professor of Fudan University in Shanghai, suggested delegates keep their laptops, using them to submit proposals throughout the year and fulfilling their CPPCC member duties daily rather than annually.
Such a move would be especially prudent during the global economic downturn, Xiong said. "As CPPCC members, it is our responsibility to help our country get through the most difficult times," Xiong added.