Lenovo, China's leading personal computer maker, said Wednesday exploring the low-end market in the rural areas is a major strategy for it to weather through the global financial crisis.
Related readings:


 PC bidders for rural program short-listed


 Lenovo aims to sell 5m computers in rural markets in 3 years


 Subsidies for home appliance purchase will spur rural spending


"Lenovo's strategy to satisfy low-end demand in domestic market will not change, instead it will only be strengthened," Lenovo Group's chairman Liu Chuanzhi, also a deputy to the National People's Congress, told reporters on the sidelines of the parliament annual session.
In face of the global financial downturn, domestic PC market would naturally account for a larger proportion of the company's sales, he said.
"New domestic demand emerges as the country launched a subsidy program to boost sale of home appliances including PCs in the rural areas," he said. "The sales in domestic market will increase."
Lenovo and 13 other PC brands won the bidding to enter the country's household appliance subsidy program in rural areas earlier this month.
Lenovo aims to sell 5 million computers in rural areas, establish 700 county-level sales and service outlets, and cover 320,000 villages across the country through 7,800 sales networks in the following three years, the company said earlier.
It will introduce 15 new models specifically designed for the rural market. The retail prices of these models are set at around 3,000 yuan ($439).
Lenovo now has the biggest share, or 42.4 percent, of the PC market in areas at or below county level in China.
Liu, however, vowed "not to give up" the overseas market. "Though the global financial downturn has not bottomed out, Lenovo will make efforts to stabilize high-end market overseas."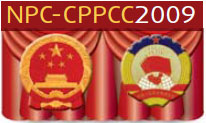 After the acquisition of IBM's PC sector, Lenovo should "raise high" the flag of ThingkPad to consolidate the European and United States market, he said. "We should ensure the sales will not drop."
Lenovo Group, the world's fourth-largest personal computer maker, reinstated its founder Liu Chuanzhi as chairman on February 5 after revealing a fourth quarter loss of $97 million.
Lenovo announced earlier this year it planned to cut 2,500 jobs including 450 in China to cut costs in response to the global economic turmoil.