The State Council, or China's Cabinet, has selected Hong Kong to begin trials of a pilot program that allows the yuan to be used as the settlement currency in some regional trade, Guo Qingping, assistant governor of the central bank, said on the sidelines of the National People's Congress.
Yuan's settlement trials will help boost trade between the Chinese mainland and Hong Kong, Shanghai based Securities Times quoted Guo as saying. Once the trial proves to be successful in Hong Kong, the program will expand to other regions, Guo added.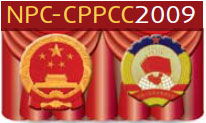 Plans to begin yuan settlement trials with some economies were first unveiled in December 2008. The program would permit the use of the yuan in trade between the Chinese regions of Yunnan and Guangxi with the Association of Southeast Asian Nations (ASEAN). The Pearl and Yangtze River delta regions would also be permitted to use yuan for settlement for trade with the special administrative regions of Hong Kong and Macao.