Baosteel, China's second-biggest steel mill, posted a profit in the first two months of this year and is expected to post a profit in the whole first quarter as prices and demand rebound, a senior company official said on Wednesday.
Baosteel's exports this year are expected to be around 8 to 10 percent of its total output, largely the same level as in recent years, Wang Jing, general manager of Shanghai Baosteel International Economic & Trading Co, said on the sidelines of the annual session of the top political advisory body, the Chinese People's Political Consultative Conference (CPPCC).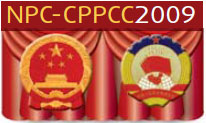 Baosteel's crude steel output reached 35.44 million tons last year.
Wang's company, a wholly owned subsidiary of Baosteel, is mainly involved in Baosteel's import and export business.
Baosteel suffered losses in the fourth quarter, with some analysts putting it at several billion yuan.
The company has not yet published its full-year earnings report.