China Unicom will spend 95 billion yuan ($13.89 billion) to expand and upgrade its networks this year, including 3G networks, and the company is in talks with Apple Inc to introduce the iPhone to China, its Chairman Chang Xiaobing said on Wednesday.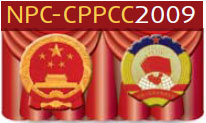 China Unicom will upgrade its existing networks and build its WCDMA-based 3G networks, Chang said on the sidelines of the annual session of the Chinese People's Political Consultative Conference (CPPCC).
Chang said he hoped China Unicom could introduce the iPhone on May 17, which is World Telecommunication Day.