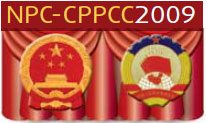 China will adhere to an active fiscal policy in 2009 to weather the global financial crisis and maintain a stable and relatively fast economic growth, a parliament spokesman said Wednesday.
China's leadership made a situation-savvy decision to shift the country's fiscal policy last year, Li Zhaoxing, spokesman for this year's annual session of the national legislature, told a press conference.
The country shifted from "prudent" fiscal policy to an "active" fiscal policy last November when the government decided to stimulate the economy by expanding domestic demand against the backdrop of the global financial crisis.
The country would expand government investment in 2009, Li said.
Such investment would focus on infrastructure facilities for agricultural production and in rural areas, and on government-subsidized housing projects, education, medical care and health sectors, he said.
Related readings:


 Stimulus spending tests fiscal balance amid crisis


 Jan. revenue down 17.1% as economy slows


 China's fiscal revenue falls sharply in Jan


 China reports 111b yuan in 2008 fiscal deficit


China to publicize stimulus package details
The investment would also go to reconstruction in the earthquake-hit areas, innovation and technological upgrade of enterprises, the construction of railways, roads, airports and ports, Li added.
He said the government would promote tax reforms and structural tax reductions to ease tax burdens of firms and residents, in a move to encourage firms to invest and residents to consume.
The government would also work to increase income of low-income families to spur consumer spending, Li added.
Li said the government would pour more money into projects that could improve people's livelihood, such as increasing subsidizes for farmers, agricultural production and in rural areas.
The government would also strive to achieve economic restructuring and transition of growth mode by promoting technological innovation, energy conservation and pollution reduction, Li said.
"At such a time to act against the global financial crisis, we should have full confidence to turn challenges into opportunities, " he said, adding, "we believe we will succeed."