China may attain its targeted 8 percent economic growth, or even higher, this year, prominent Chinese economist Li Yining said Tuesday.
Related readings:


 China's growth may shrink to 5.5%


 China sees 9.9% growth rate in 3 quarters


 Importance of maintaining economic growth stressed


 China can keep steady economic growth by overcoming crisis

The Chinese economy is also very likely to recover before other major economies, even though the world economy is still shrouded in uncertainty, said Li, a member of the 11th National Committee of the Chinese People's Political Consultative Conference (CPPCC), the nation's top political advisory body.
"The economic slowdown is beginning to bottom out, and the economy is bound to rebound on huge government investment," said Li,
According to a survey of factories issued Monday by the brokerage CLSA, China's manufacturing activity contracted for a seventh consecutive month in February, but at a slower rate than previous months.
"The growth may not be very high, but won't stay around six percent," Li said, "this year's growth could reach eight percent or even higher."
China's economic growth slowed to 6.8 percent in the fourth quarter of 2008, dragging down the annual rate to a seven-year low of 9 percent, as the unfolding global financial crisis takes a toll on the national economy.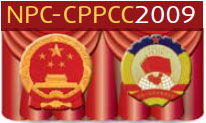 Since last October, the government has announced several aggressive measures to bolster domestic demand and increase investment, including a 4 trillion yuan ($586 billion) stimulus plan, a plan to expand rural consumption of home appliances and support plans for key industries.
Li, who has been a political advisor for more than 20 years, said the attainment of an 8-percent growth would be decided by two factors: a boost in domestic demand and changes in the global economy.
The 8-percent growth was entirely within reach if domestic investment and consumption could be spurred to support the growth, he said.
"However, the development of the global economy is not up to our country," he added.
The economist who had proposed the ongoing shareholding system reform in China also said the country should be able to see an early recovery.
"Our problems is not as complicated as in other countries," he said, "and China's focus on expanding domestic demand could foster future growth, although our exports may have to depend on overseas demands."
However, the country needed to enhance agricultural productivity so as to increase farmers' income and to put both rural and urban residents under the umbrella of the social security network before the domestic demand could take off, Li said.
"Farmers' contribution to the economy could be huge if their income is raised to a higher level, given the large number of farmers," he said.
Of China's total 1.3 billion population, more than 900 million are farmers.
"Reforms of the pension system, education and medical insurance should keep up with the economic growth to increase people's willingness to spend," Li added.
He said the public should have faith in the government's ability to stimulate the economy. "There is no doubt about that."