A time to celebrate tradition
Share - WeChat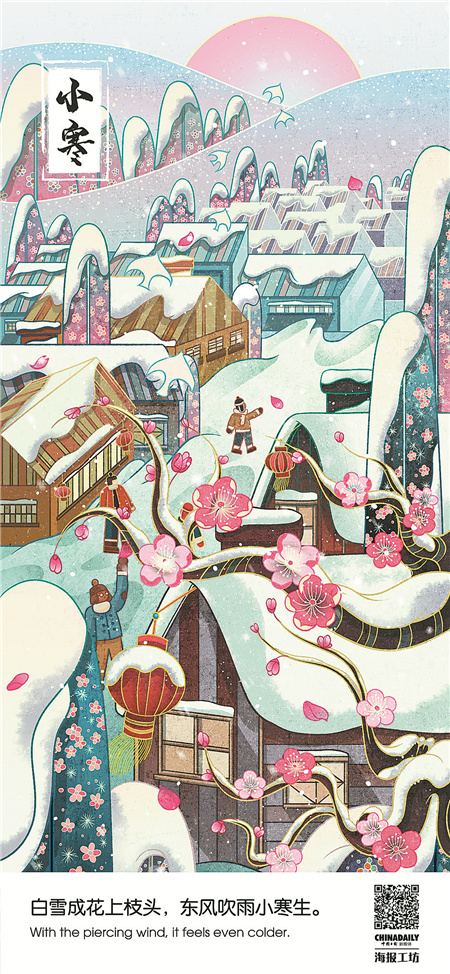 Minor Cold, a Chinese solar term, is set to usher in preparations for the Lunar New Year, Zhang Lei reports.
The Chinese astronomical calendar shows that at 23:04:39 (Beijing time) on Thursday, xiaohan or Minor Cold, arrives. The 23rd term of the 24 traditional Chinese solar terms, which spans 15 days, marks the onset of the coldest period of the year.
The calendar is published by the Purple Mountain Observatory with Chinese Academy of Sciences, an authoritative astronomical measurement institution in China. Responsible for the implementation of the country's calendar calculation, it compiles the annual lunar calendar, including the time of the occurrence of the solar terms.
Luo Shuwei, a researcher at the Tianjin Academy of Social Sciences, says every year around this time, a cold air mass moves from Siberia toward the Inner Mongolia autonomous region, with the strongest cold wave peaking during the following solar term Major Cold in 15 days.
Despite the severe cold, yang, a positive and active force in the Chinese yinyang theory, continues to grow. During xiaohan, as the yang energy is slightly higher than that of Winter Solstice, wild geese begin to migrate to the north because they feel the growth of yang during the first five days of xiaohan.
Ancient Chinese also recorded during the next five days that magpies were seen in the north, starting to build their nests as they also felt an increase of yang. As a result of this energy gaining momentum over five days, pheasants started to tweet loudly.
Most Popular