Diners relish insects in their diets
Share - WeChat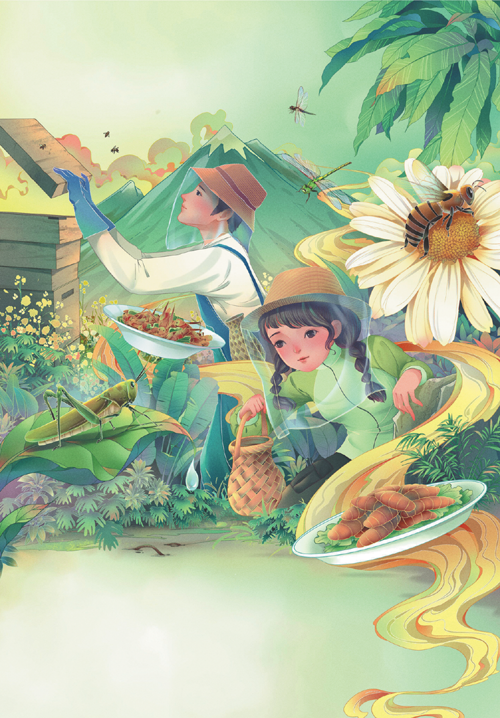 Edible bugs known to have wide range of health benefits
Yang Xingyu, 23, took a liking to fried insects the first time she ate them while touring Lijiang, Yunnan province.
"I ate fried locusts and silkworm chrysalis. Although they looked a little weird, they were crisp and crunchy. Due to the protein they provide, I eat them for nutrition," she said, adding that chili powder adds spice to such dishes.
A growing number of people are tucking into numerous types of edible insects such as beetles, caterpillars, bees, wasps, grasshoppers, locusts and crickets. They can be fried, baked, braised with soup, mixed with dessert, or even eaten raw.
Insects are rich in protein, polysaccharide (a carbohydrate), vitamins and minerals — making them an ideal food supplement. More important, their strong reproductive ability and ready availability mean they play an essential role in fighting famine in a world that is facing difficulty feeding a rising population, experts said.
The global population is expected to rise to 8.5 billion by 2030, 9.7 billion by 2050, and about 10.4 billion by the 2080s, according to a UN report in July.
Huang Dawei, director of the Entomological Society of China's Insect Industrialization Professional Committee and a researcher at the Chinese Academy of Sciences' Institute of Zoology, said the global population is rising much faster than the availability of food. So developing new food sources, especially sources of protein, is extremely urgent.
"Recently, new global interest in edible insects and invertebrates has arisen due to the pressing need to develop new food sources in terms of food safety," Huang said.
Guo Jianjun, professor at Guizhou University's Institute of Entomology, said the numerous varieties and quantities of insects are known as "God's last piece of cake for mankind", whose huge potential has yet to be fully recognized.
"Insects also benefit the human body. For example, most of the fat in insects is unsaturated fatty acid, which is good for the heart and vessels in the brain. The rich chitin in insects is known as the sixth essential factor for human health (after protein, fat, sugar, vitamins and minerals)," he said. Chitin is believed to improve the healing of wounds and regulate immunity.
Huang said there are many examples of anti-oxidation, antibacterial, anti-inflammatory and even anticancer properties among insect-derived bioactive ingredients and whole-insect extracts.
"The efficacy of insects in the treatment of cardiovascular and neurodegenerative diseases, and enhancement of immune function is attracting us to continue to explore their medicinal value," he said while addressing the Edible Insects Development Forum in Lancang-Mekong Cooperation Countries, held in Guiyang, Guizhou province, in August.
"We study edible insects not only to satisfy our taste buds and fill our stomachs, but more important, to achieve the 'One Health' goal for our own health, animal health, and environmental health through edible insect industrialization," he added.
Favored food
The practice of eating insects and invertebrates, known as entomophagy, has a long history in many countries and regions with various cultures and religions.
In China, sauces made from white ants' eggs were favored by royal households in the Zhou Dynasty (c. 11th century-256 BC), according to The Rites of Zhou, a classic Chinese work on the rituals of organizational theory that dates back more than 2,200 years.
The Confucian classic The Book of Rites, compiled in the Western Han Dynasty (206 BC-AD 24), records the inclusion of cicadas and bees on menus for royal banquets. The Compendium of Materia Medica, an encyclopedic work on medicine and natural history written by Li Shizhen during the Ming Dynasty (1368-1644), documents the cooking methods for and medicinal properties of more than 100 insects.
In modern times, insects are eaten in regions such as Yunnan and Guizhou provinces. For example, the Gelao ethnic group in Zunyi, Guizhou, celebrates an insect-eating festival on June 2 in the Chinese lunar calendar, when residents hunt for bugs and make them into snacks. The Hani, Bulang and Dai ethnic groups also have a tradition of consuming insects.
In Switzerland, food suppliers were allowed to use Tenebrio molitors (various forms of the mealworm beetle), grasshoppers and crickets as food materials in 2017, making it the first European country to openly sell insects as food.
Two years later, a bakery brand in the United States promoted its new product — bread made from scores of powdered crickets.
In June last year, the European Commission approved dried Tenebrio molitor larva as a new food in the European Union market. For example, this powdered food source can be included in biscuits and spaghetti. Locusts and crickets were approved as new foods by the commission in November last year and February, respectively.
In Asia, Thailand has the most farms producing crickets, with an annual output of about 7,000 metric tons. In South Korea, the market for pet food containing insect protein is expected to reach 70.7 billion won ($49 million) in 2030, up from 17 billion won in 2018, according to that country's Ministry of Agriculture, Food and Rural Affairs. Insect dishes also feature on menus in countries such as Mexico and Colombia, and some African nations.
Some 2 billion people have already supplemented their diets with insects, according to a report from the UN Food and Agriculture Organization, or FAO.
However, Guo from Guizhou University, warned that not all insects can be eaten, adding that some are toxic, and some people may be allergic to insect protein.
In addition to the nutritional value, raising and eating insects improves ecological conservation, compared with traditional food sources such as livestock, experts said.
Huang, from the Entomological Society of China, said: "Adding insects to the food list can drastically reduce the ecological impact of producing food from animal origins. There is no doubt that the low demand for land and water in industrial insect farming will reduce costs for producers, and lower greenhouse gas emissions from insect farming have resulted in ecologists and city managers prioritizing edible insects."
For example, pigs produce 10 to 100 times more greenhouse gases per kilogram than mealworms.
"Waste from the production and processing of other food materials can be used as feed for edible insects, so that they act as factories turning waste into financial resources," Huang added.
Guo said that compared with livestock, using insects as food is more efficient, and involves less waste emission. In addition, insects are less likely to become ill.
"The FAO has promoted the idea of eating insects through slogans such as 'Eat Insects, Save the World', and the development and use of such insects have received growing attention from experts worldwide," he said.
Nutritional value
The book Edible Insects: Future Prospects for Food and Feed Security, released by the FAO in 2013, stresses the nutritional value of edible bugs and the potential benefits of insect farming for the environment.
The book states, "Farming insects for human and animal consumption is particularly relevant at a time when population growth, urbanization, and the rising middle class have increased the demand for food while simultaneously harming the environment that enables its production".
The report to the 20th National Congress of the Communist Party of China, released on Oct 16 in Beijing, said, "We will adopt an all-encompassing approach to food, develop protected agriculture, and build a diversified food supply system."
Chen Mengshan, former Party chief at the Chinese Academy of Agricultural Sciences, told People's Daily that in the past, food mainly referred to staples, but with people's living standards improving, their consumption habits have changed to take in more categories. This all-encompassing approach means the food structure should be expanded to a wider range of non-staple foods.
Yang Zhongqi, chief expert at the Chinese Academy of Forestry and a member of the National Committee of the Chinese People's Political Consultative Conference, proposed during this year's annual meetings of the nation's top legislature and the top political advisory body in March that edible insects be included in Chinese food categories.
He said these insects have great potential and good prospects for solving food and nutrition supply problems, but psychological barriers that people may experience when they eat insects need to be overcome.
Wang Jin in Guiyang contributed to this story.
Contact the writers at chenmeiling@chinadaily.com.cn