Party forms new friendships worldwide
Share - WeChat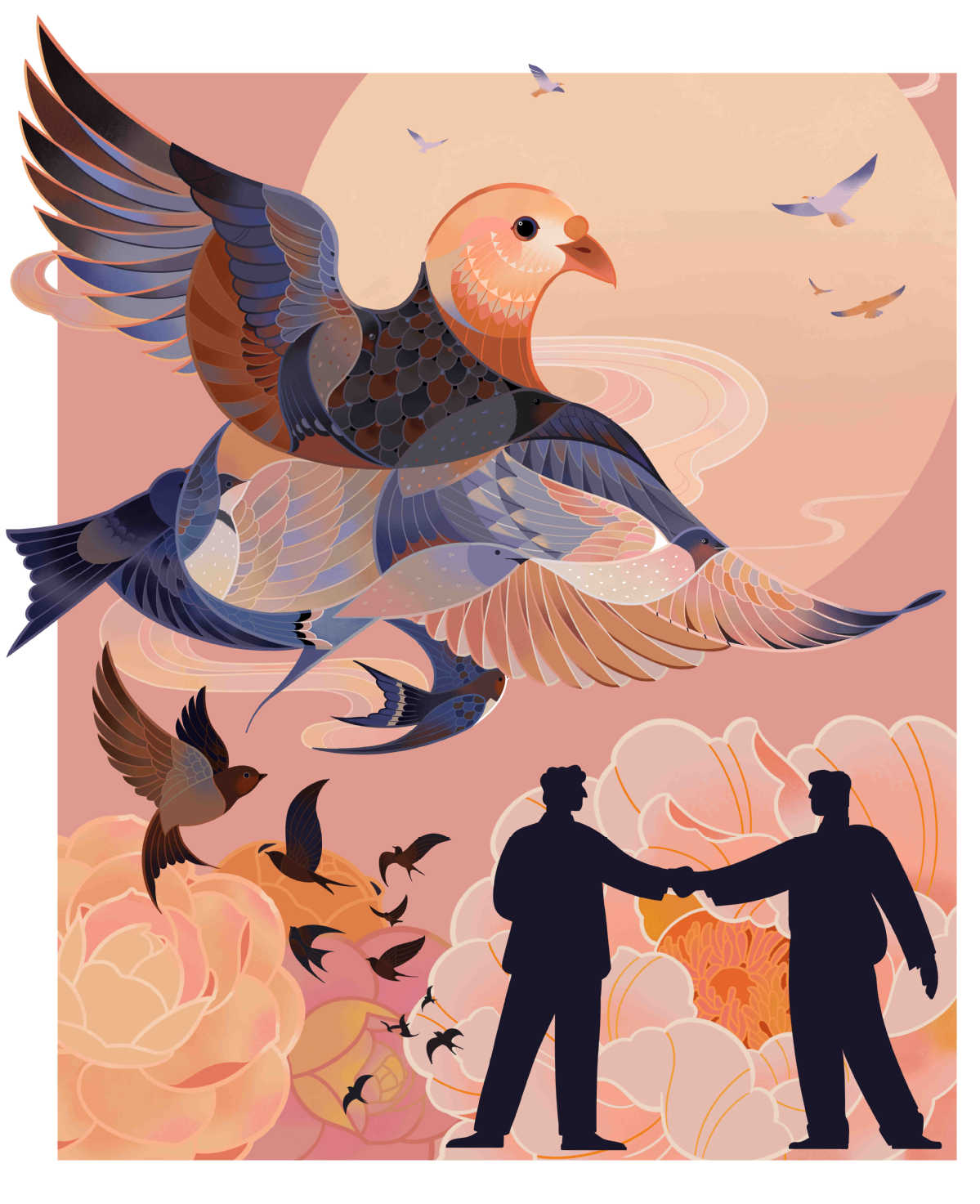 Series of exchanges boost China's international relations
During the past decade, the Communist Party of China has expanded its "circle of friends" as it works to forge a global network of political party partnerships to advance the building of a community with a shared future for mankind.
As part of Chinese diplomacy, party-to-party exchanges have served as a catalyst to bolster China's relations with the rest of the world and fulfill the CPC's founding mission of promoting human development and progress while seeking happiness for the people.
Xi Jinping, general secretary of the CPC Central Committee, has steered the world's largest ruling political party over the past 10 years to enhance friendship and exchanges with political parties worldwide for the global good.
The CPC maintains regular contact with more than 600 political parties and organizations from over 160 countries and regions, according to the International Department of the CPC Central Committee.
Addressing the CPC and World Political Parties Summit in July last year via video link, Xi called for cooperation to be strengthened among political parties to jointly ensure public well-being.
As an important force behind human progress, political parties need to set the right course for the future and shoulder their historic responsibility to build broad consensus, promote global development, and work together to address global risks and challenges, Xi said at the summit.
The CPC will shoulder its responsibilities as a major political party in a major country to make new contributions to improving the well-being of mankind, he added.
Since the 18th National Congress of the CPC in 2012, the Party has paid more attention to developing relations with political parties from countries worldwide to help promote state-to-state ties and people-to-people friendship. It has worked to share governance experience with overseas political parties, enhance strategic trust with them, and develop dialogue and exchanges among various civilizations to build a better world.
Xi has said that political parties from various countries should enhance mutual trust, strengthen communication, develop close coordination and explore the new type of party-to-party relations based on the principle of seeking consensus while shelving differences, respecting each other and learning from each other.
The CPC will neither import foreign development models nor export the Chinese model, he said at the opening of a high-level dialogue between the CPC and world political parties in 2017. "And we will not ask other countries to copy the Chinese practice," Xi added.
Liu Jianchao, minister of the International Department of the CPC Central Committee, said building the new type of party-to-party relations is a "CPC initiative" proposed by General Secretary Xi in response to the profound and complex changes in the international landscape and the development trend among the world's political parties. It has blazed a trail for building a community with a shared future for mankind through cooperation between political parties.
On the new journey in the new era, the CPC will work with political parties worldwide to guide countries in shaping and consolidating a relationship of positive interactions with mutual support, Liu said in an article published in the 19th issue of Qiushi Journal, an official publication of the CPC Central Committee, on Oct 1. The Party will also uphold the principle that matters concerning the people should be handled through joint consultation, and the destiny of the world should be jointly held by all countries.
The CPC will continue to consolidate and expand its "circle of friends", and join hands with more political parties to stand on the right side of history to promote human progress, Liu said. It will also unite all forces that can be brought together to resolutely safeguard the nation's core interests and jointly uphold international fairness and justice, he added.
Over the past 10 years, the mechanisms for dialogue between the CPC and other political parties have constantly improved. Events such as the China-Arab States Political Parties Dialogue Extraordinary Meeting, the UK-China Leadership Forum, and the Pacific Island Countries-China Political Leadership Dialogue have added mutual trust, resilience and vitality to the CPC's relationships with foreign political parties.
Poverty alleviation
The CPC has had exchanges in various forms with foreign political parties over governance and reforms. As China has blazed a development path that suits the country's actual conditions under the leadership of the CPC, more political parties are keen to learn from China's successful practice to contribute to the progress of their respective nations.
In one such exchange, Bounnhang Vorachith, former general secretary of the Lao People's Revolutionary Party Central Committee, visited villages in Hunan and Fujian provinces in 2018 and 2019 respectively to learn about targeted poverty alleviation — considering the introduction of similar practices in Laos.
Drawing from the CPC's experience, Raphael Tuju, former secretary-general of Kenya's ruling Jubilee Party, said it is exploring the possibility of establishing a school to instill a culture of discipline among party members.
With support from the CPC, six parties in southern Africa cofounded the Julius Nyerere Leadership School in 2018 to strengthen self-construction and improve governance capacity.
Ilyas El Omari, former general secretary of the Authenticity and Modernity Party of Morocco, said the CPC has become a model for wise governance and the positive management of ideological, political and organizational issues.
Eradicating poverty is a common aspiration among people in all countries, and an important objective that political parties strive to achieve.
Since the 18th National Congress of the CPC, the 98.99 million rural residents living below the poverty line in China have been lifted out of poverty, enabling the nation to meet its poverty reduction target set out in the United Nations 2030 Agenda for Sustainable Development 10 years ahead of schedule.
During exchanges with overseas political parties, the CPC has made clear it is willing to contribute more Chinese solutions and Chinese strengths to reducing poverty worldwide.
While leading the Chinese people in successfully containing COVID-19, the CPC has shared China's response to the disease as well as diagnosis and treatment solutions with more than 400 political parties, and has provided medical supplies and technical support for such parties and organizations in need. It said it would spare no effort to support international cooperation against COVID-19 and to enhance the accessibility and affordability of vaccines in developing countries.
Ananda Goonatilleke, president of the Sri Lanka-China Friendship Association, said, "China has made remarkable achievements in containing the COVID-19 pandemic, in poverty alleviation and ecological governance, and witnessed significant improvement in people's living standards in recent years."
He commended the Belt and Road Initiative and Global Development Initiative proposed by Xi, and his advocacy for upholding the universal values of peace, development, fairness, justice, democracy and freedom, as well as building a community with a shared future for mankind.
"These ideas accord with the general trend of world peace and development and show strategic foresight," Goonatilleke said.
Impressive progress
As an important part of party-to-party exchanges, the CPC's governance philosophy, particularly Xi Jinping Thought on Socialism with Chinese Characteristics, and its practice in China, has been welcomed by foreign political party leaders and researchers.
Adham Sayed, a member of the Central Committee of the Communist Party of Lebanon, said China has made such impressive progress due to the science-based decisions of the CPC and the concerted efforts of the Chinese people.
"The world is going through a very difficult time due to the pandemic, and for other reasons. International society is paying more attention to China and expecting more from it. This year, the 20th National Congress of the CPC will be convened. It will be an important event not only for the CPC and China, but for the whole world," Sayed told People's Daily.
Charles Onunaiju, director of the Center for China Studies in Nigeria, is extremely interested in books about modern China, including Xi Jinping: The Governance of China and Up and Out of Poverty, both written by Xi.
The governance philosophy in these books is the fundamental reason the CPC has always maintained strong vitality and self-innovation capacity, and provided inspirational governance experience for other countries and political parties, Onunaiju said.
Michel-Philippe Nze, second deputy secretary-general of the Gabonese Democratic Party, or GDP, told People's Daily: "The GDP has been friends with the Communist Party of China for more than 40 years. Every leader of the Gabonese party has visited China to learn governance experience from the CPC. They have witnessed the huge changes in China's development and deeply felt the institutional advantages of socialism with Chinese characteristics.
"The CPC adheres to a people-centered approach and always puts people's interests first," he said, adding that this guarantees that China makes constant progress.
Benyamin Poghosyan, chairman of the Center for Political and Economic Strategic Studies in Armenia, said that unsustainable and unequal economic growth causes the wealth gap plaguing many developing countries.
"The CPC always values people-centered development and promotes balanced urban-rural and regional development to lead the Chinese people toward the goal of common prosperity. Political parties in many countries can learn from China's successful experience," Poghosyan said.
As a reader of Xi Jinping: The Governance of China, Poghosyan said he was deeply impressed by the remarks made by the Chinese leader.
"China upholds that all countries are equal, irrespective of size, strength and wealth. It respects the right of all countries to choose their own path of development, upholds international equity and justice, and opposes imposing one's will on others," Poghosyan said.
He added that the vision of building a community with a shared future for mankind, and the Global Development Initiative proposed by Xi have paved the way for mutual respect, peaceful coexistence and win-win cooperation for countries around the world, and are significant for promoting friendship among them.
The CPC, which marked its centenary last year, is marching ahead on a journey of leading the Chinese people to build a modern socialist country and realize national rejuvenation. Experts said the Party's "glorious achievements" in international exchanges serve as a contribution to global progress.
Wang Lei, an associate professor at Beijing Normal University's School of Government and director of the BRICS Cooperation Center, said that under the strong leadership of the CPC, China is advancing major-country diplomacy with Chinese characteristics to build a new type of international relations and a community with a shared future for mankind.
As the nation's international influence, ability to inspire, and power to shape continue to rise, China will make significant new contributions to global peace and development, Wang said.