Animals on duty for pandemic inspection in Guangxi
Share - WeChat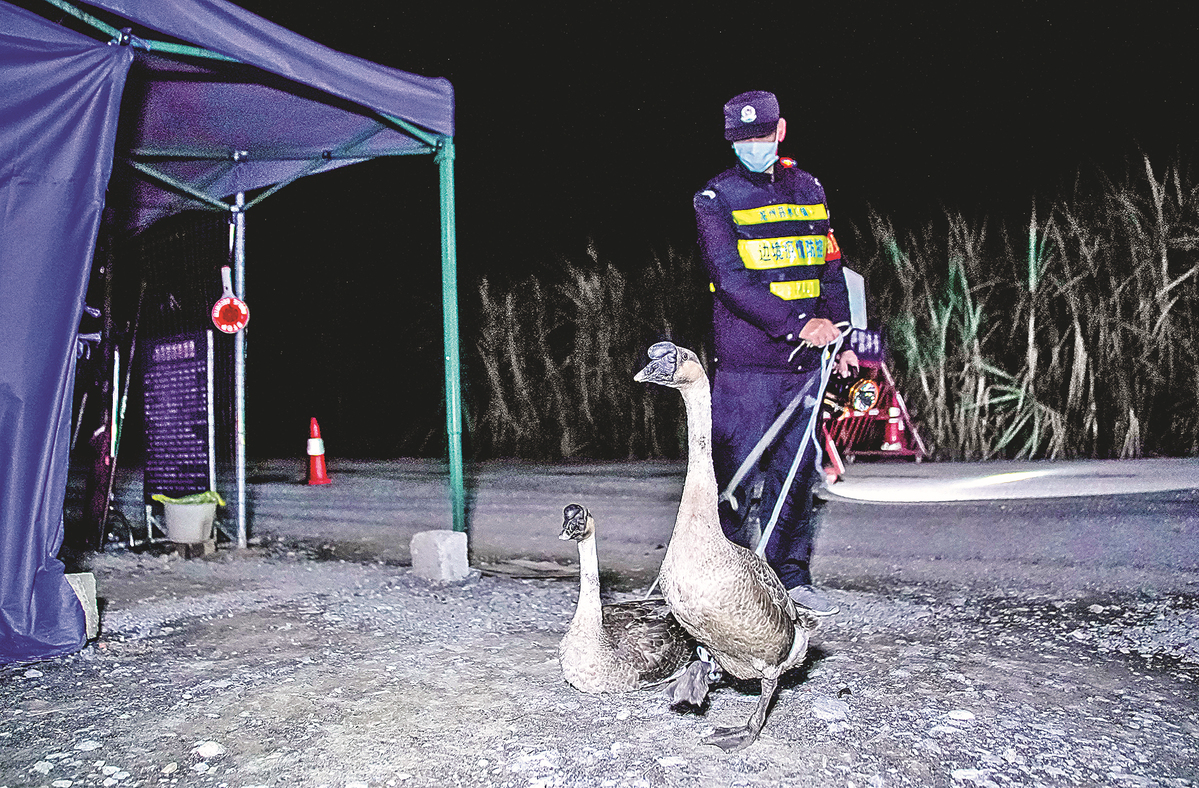 Liao Qifeng walked along the winding road bordering Vietnam and headed for the checkpoint to resume his early morning inspections.
Before he reached the Yangshangtun checkpoint, which is only one kilometer from Vietnam, he could hear the geese cackling and see the bright red national flag waving in the air.
The 40-year old is a village officer of Longzhou county, South China's Guangxi Zhuang autonomous region. He has been dispatched to keep guard on the border since last August.
"We are so close to Vietnam. Border surveillance and control is even more important and challenging, particularly amid the COVID-19 epidemic. We must keep an eye on it round the clock," said Liao.
The first thing he does during shift change is to greet his "colleagues": another village officer, one dog and two geese.
When Liao is ready to patrol the border, the two geese follow his steps as if reaching a tacit agreement.
"My daily work would be kind of boring without the company of these animals," said Liao.
Actually, the animal guards are a major innovation of Longzhou county in its epidemic control and prevention to further enhance the checkpoints' alertness.
"Both the geese and dog were equipped by the government to help with epidemic control because they can stay watchful when people feel exhausted and sleepy," explained Liao.
One time the goose cackled to signal Liao that a snake was nearby during his patrol.
In Longzhou, it is a tradition to raise geese to guard the house since they would cackle as soon as strangers break in.
"Villagers suggested that geese can play a role in our guard duties and we finally accepted it after successful trials," said Li Guotao, deputy commander of Longzhou epidemic prevention and control headquarters.
"So far both the people and the animals have done a good job. Even criminal cases such as smuggling have declined to zero since last November," said Li.
The border stretches 184 kilometers in Longzhou, so preventing imported COVID-19 cases is also a priority.
"We are constantly upgrading epidemic interventions," Li added.
Over 1,000 people are stationed at border checkpoints for 24-hour shifts, and patrols have been dispatched from 59 border villages. Barbed wire stretching 55.9 kilometers has been installed to block illegal border crossings, and surveillance systems with video, intercoms and electronic alarms have been set up in five border villages.
"Longzhou county is cut up by karst peaks, which largely obstruct progress on the construction work. As for the border areas without any physical obstructions, our people and animal guards would play a critical role," Li said.
Together with geese and a dog, Liao deems his daily patrol meaningful and cheerful.
"I don't know when the anti-COVID-19 fight can actually end, but I am sure that the victory will be on our side," said Liao.
Shi Ruipeng and Xu Weicheng contributed to this story.