From dream to reality
Share - WeChat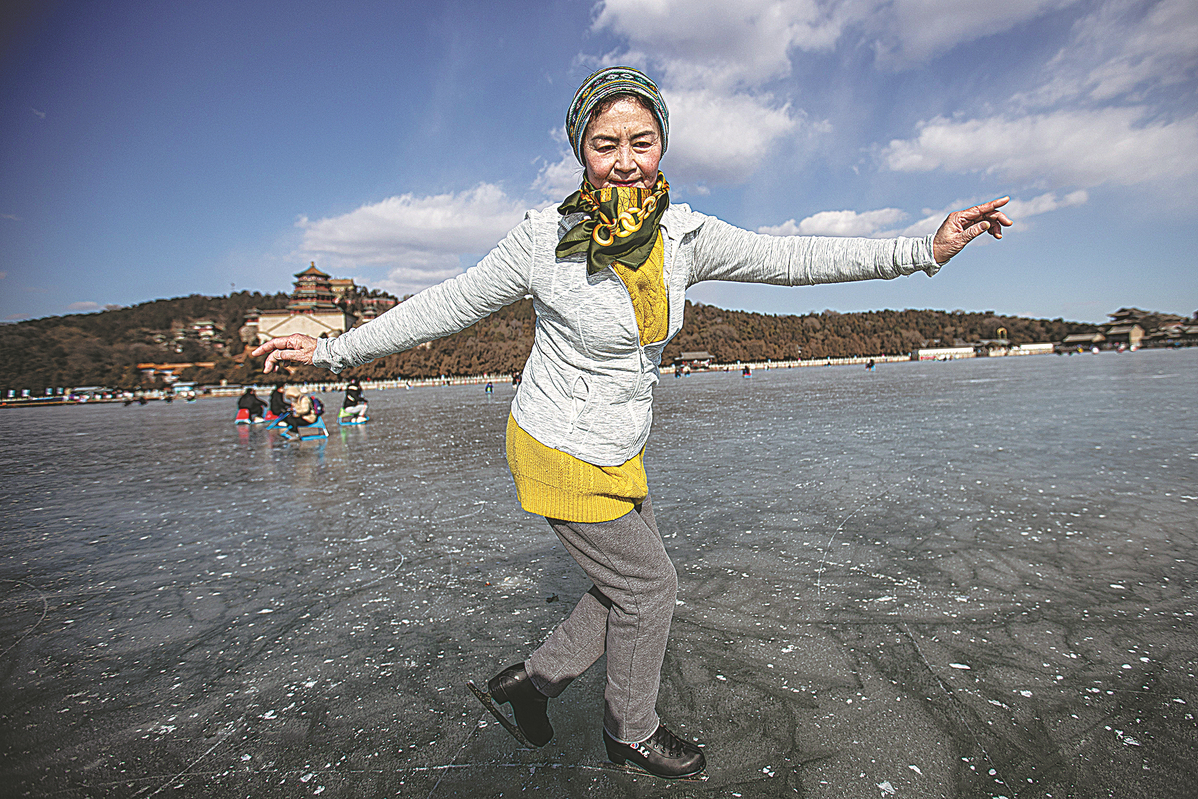 Boom times
The soaring demand from the public has fueled a boom in the construction of ice and snow facilities.
Data shows that China now has 654 standard ice rinks, an increase of 317 percent from 2015. The number of indoor and outdoor ski resorts reached 803, up from 568 in 2015.
The boom in winter sports has also helped improve the livelihoods of thousands of Chinese people.
Zhang Erkui runs a restaurant named Hualangge in Hongping Town, located deep in the mountains of Shennongjia Forestry District in Hubei province. For a long time after opening in 1999, business was slow during the winter, but that's not the case now.
"Thanks to the construction of ski resorts in our town, more and more visitors come in winter and we can do business all year round," said Zhang, who now usually earns over 40,000 yuan (nearly $6,300) during the winter.
Since 2004, Shennongjia has welcomed more than 3 million skiers, driving revenue streams and increasing employment for local people, said Liu Qijun, deputy Party secretary of Shennongjia Forestry District.
In Chongli, once an impoverished county in Zhangjiakou with limited agricultural income, the change was even more striking. In 2015,16.8 percent of the 100,000 residents in Chongli were classed as living below China's national poverty line.
But this mountainous district, which will stage most of the snow events at Beijing 2022, has been transformed into a skier's paradise. In 2019, the New York Times named Chongli as one of 52 global ski destinations worth visiting.
In May 2019, Chongli was officially lifted out of poverty. Nearly a quarter of Chongli's population works in ski resorts or for related companies and organizations.
"The Games represent a formidable asset to accelerating long-term development. This is what has been done for Beijing 2022, and we've learned a lot," said the International Olympic Committee's Olympic Games executive director, Christophe Dubi.
Far-reaching influence
According to data released by the Ministry of Culture and Tourism, Chinese people made 254 million winter sports-related trips last year. The upcoming Winter Games are expected to further boost winter sports, with Chinese people making an estimated 305 million such trips during the current winter season.
As far as IOC president Thomas Bach is concerned, Beijing 2022 will surely "be a huge legacy for global winter sports".
"It will also be very important for the legacy of the Olympic venues because, with this participation, the use of these venues after the Olympic Games is secured," Bach said.
The Beijing Organizing Committee for the 2022 Olympic and Paralympic Winter Games (BOCOG) published its plan for post-Games utilization of the competition venues.
According to Li Sen, the director of BOCOG's general planning department, Beijing 2022 will use six competition venues built for the 2008 Olympics. Meanwhile, all newly built venues considered post-Games utilization at the planning stage.
"After the Games, the venues will bid for and stage high-level sports events. The venues will also operate in all seasons and be fully open to the public," said Li.
Besides the venues, experts believe that Beijing 2022 will have a far-reaching influence on the ice and snow industry as well as the country.
"The Games are no passing fad. I'm confident that the Beijing Winter Olympics will leave a legacy of talent, infrastructure, and technology, just as the 2008 Beijing Olympics did," said Wang Jun, vice-president of the Wuhan Ice and Snow Sports Association.
Xinhua