Olympic villages open for participants
Share - WeChat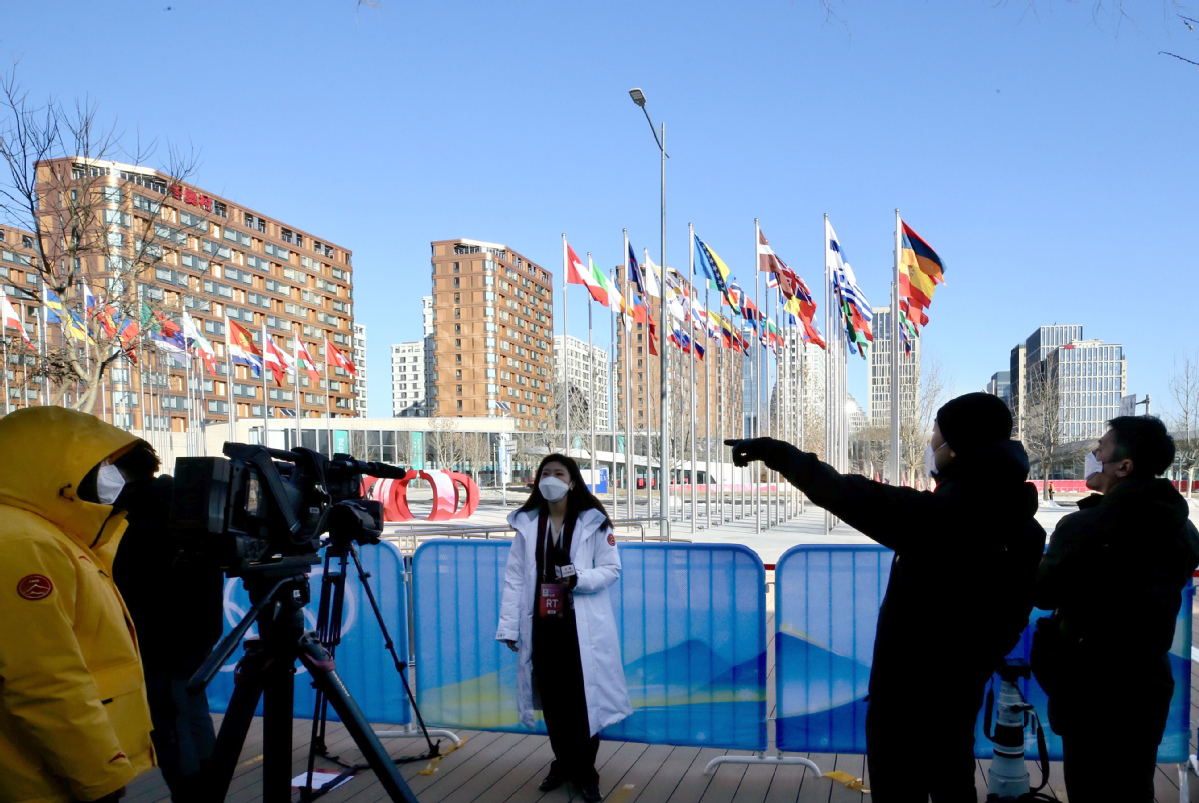 With services and facilities tested after a trial run, the villages that will house participants in the 2022 Beijing Winter Olympic Games officially opened on Thursday to give athletes from around the world a safe and cozy home away from home.
With a week before the opening ceremony on Feb 4, three villages-in downtown Beijing, the city's northwestern Yanqing district and co-host Zhangjiakou, Hebei province-are all set to accommodate an estimated 2,880 athletes as Beijing readies for its encore as an Olympic host after having staged the 2008 Summer Games.
About 360 participants, including athletes, coaches and officials from over 20 countries and regions, arrived at the downtown village on Thursday and have all settled in after undergoing entry procedures that included body temperature checks, security checks and accreditation validation that were tested and optimized repeatedly during a trial run that started on Jan 23, organizers said.
"We've been prepared and trained quite well for this, and everything went according to plan today," said Zhang Guannan, deputy director of the liaison department for the village's operation team. "We will do our utmost to provide the best possible services to guarantee a safe and comfortable stay for each of the delegation members to make the Beijing Olympics a true 'athlete-centered' Games."
Situated in the northern part of the city, against the backdrop of the Beijing National Stadium, also known as the Bird's Nest, the downtown village in Chaoyang district, which covers an area of 330,000 square meters, is the largest of the three and will mainly accommodate athletes from ice sports, which will all be held at downtown venues.
The mountain villages in Yanqing and Zhangjiakou's Chongli district, where the majority of snow sports will be staged, have also begun receiving delegations and have volunteers and operational staff on hand who have been specially trained to handle oversize luggage, such as ski and snowboard bags, to speed up security and check-in procedures.
Twenty-six of the more than 300 Games participants received at the Zhangjiakou village on Thursday were from the Chinese cross-country skiing team, becoming the first squad of the host delegation to settle in at the village in Chongli, which is about 220 kilometers northwest of downtown Beijing.
"Our goal is to make their entry into the village as smooth and convenient as possible to leave everyone with a nice first impression," said Jia Xingwang, deputy manager of the village's reception center.
According to organizers and property owners, all the apartment buildings in the villages have received the highest international certifications for green construction, with the recycling of materials, energy efficiency and eco-friendly waste disposal prioritized throughout their development.
A smart housing control system has been installed in each of the apartments, allowing athletes and officials to control the lights, air conditioners and curtains by using a phone app, while accessible facilities, such as ramps for wheelchairs and wider apartment doors, have been installed to prepare for participants in the Paralympic Games, which will run from March 4 to 13.
"I am amazed," Juan Antonio Samaranch, chairman of the International Olympic Committee's Beijing 2022 coordination commission, said during a visit to the downtown village on Tuesday.
"It's probably the best Olympic village, winter or summer, that I've ever seen. It is complete and has a lot of space and wonderful facilities. The athletes are very lucky to celebrate the Games here in Beijing."