Makeup brushes sitting pretty in Hebei
Share - WeChat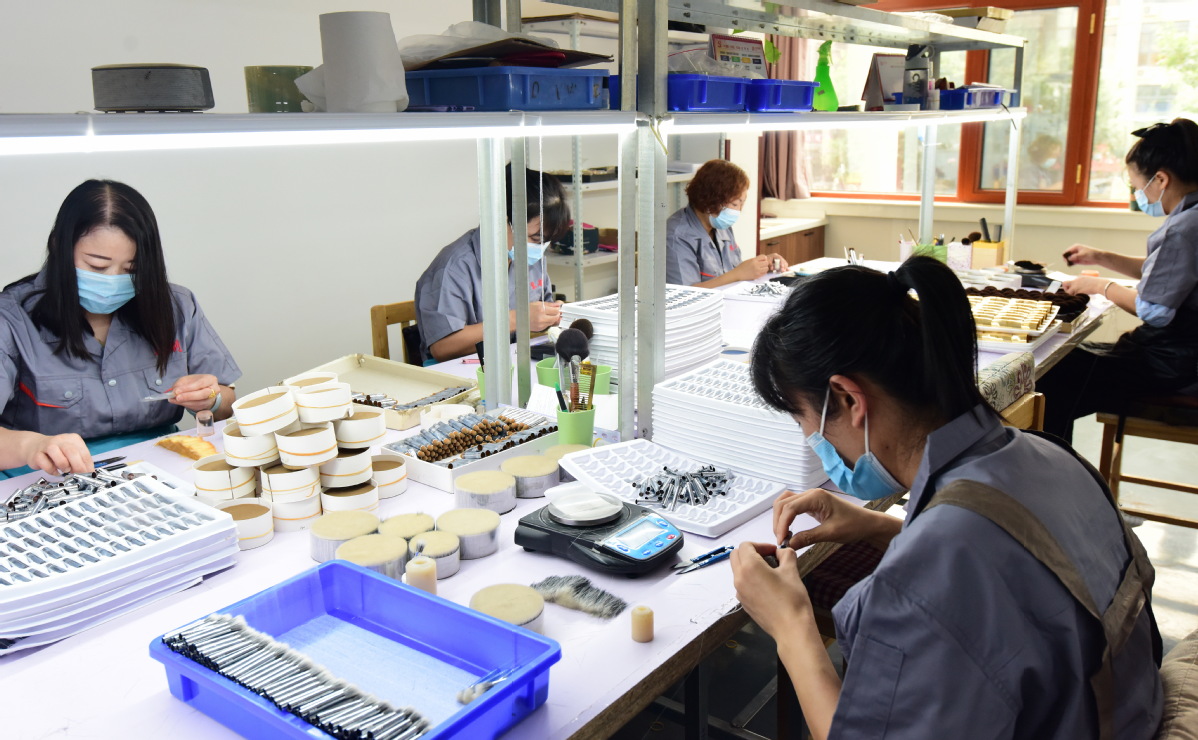 One county near Beijing, Tianjin makes half of nation's output
Chinese-made makeup brushes have seen robust sales in the country since last year, even during the COVID-19 pandemic, which left many consumers stuck at home, creating more time to shop online.
There were more than 21,000 manufacturers of makeup brushes in China by the end of last year. Over 6,400 were newly set up in 2020, according to a report by the Xinhua Daily Telegraph, a Chinese language newspaper in Beijing.
When thinking of quality makeup brushes, famous brands from developed countries such as Japan's Chikuhodo often come to mind.
However, Qingxian county in Cangzhou, Hebei province, has emerged as one of the country's largest makeup brush manufacturing areas.
"About half of the brushes made domestically are from the county and the quality of our brushes can compete with big name international brands," said Kang Shaoxing, president of the Qingxian Makeup Brush Industry Association.
His confidence comes from the fact that the county has rich experience in manufacturing brushes for luxury international brands since the 1990s, when the first brush maker in Qingxian was established by a businessman from South Korea.
About 170 kilometers Southeast of Beijing and 80 km Southwest of Tianjin, the county boasts convenient transportation to both cities and the Bohai Sea.
In addition, low labor costs and favorable local government policies have attracted investment from South Korea. About 30 manufacturers of makeup brushes from South Korea have set up shop in Qingxian.
In the 1990s, Qingxian became well-known as a center for woolen sweaters, complete with wool processing units and a skilled workforce whose wool techniques were adaptable and relevant to brush-making, a craft that soon acquired dimensions of an industry.
Two decades of development, and proximity to ports like Tianjin and to South Korea, helped it to boom, not necessarily with foreign investors, but with emerging domestic entrepreneurs and brands.
With a population of more than 441,000 people, Qingxian now boasts 141 makeup brush manufacturers, including 15 foreign-invested ones, and more than 1,000 factories making related and supporting materials. The industry employs a total of 16,000 local employees, according to a recent white paper on the county's makeup brush industry.
Last year, revenue of the makeup brush industry in Qingxian topped 1.5 billion yuan ($232 million), and about 15 percent of which are from exports. Currently, the county has registered almost 500 local brands, which operate a total of 2,000 e-commerce stores at different online platforms, the white paper said.
Shao Junhua, a local whose career has been involved with brushes from the very beginning, tells a story typical of the development of the county's brush industry.