Makeup brushes sitting pretty in Hebei
Share - WeChat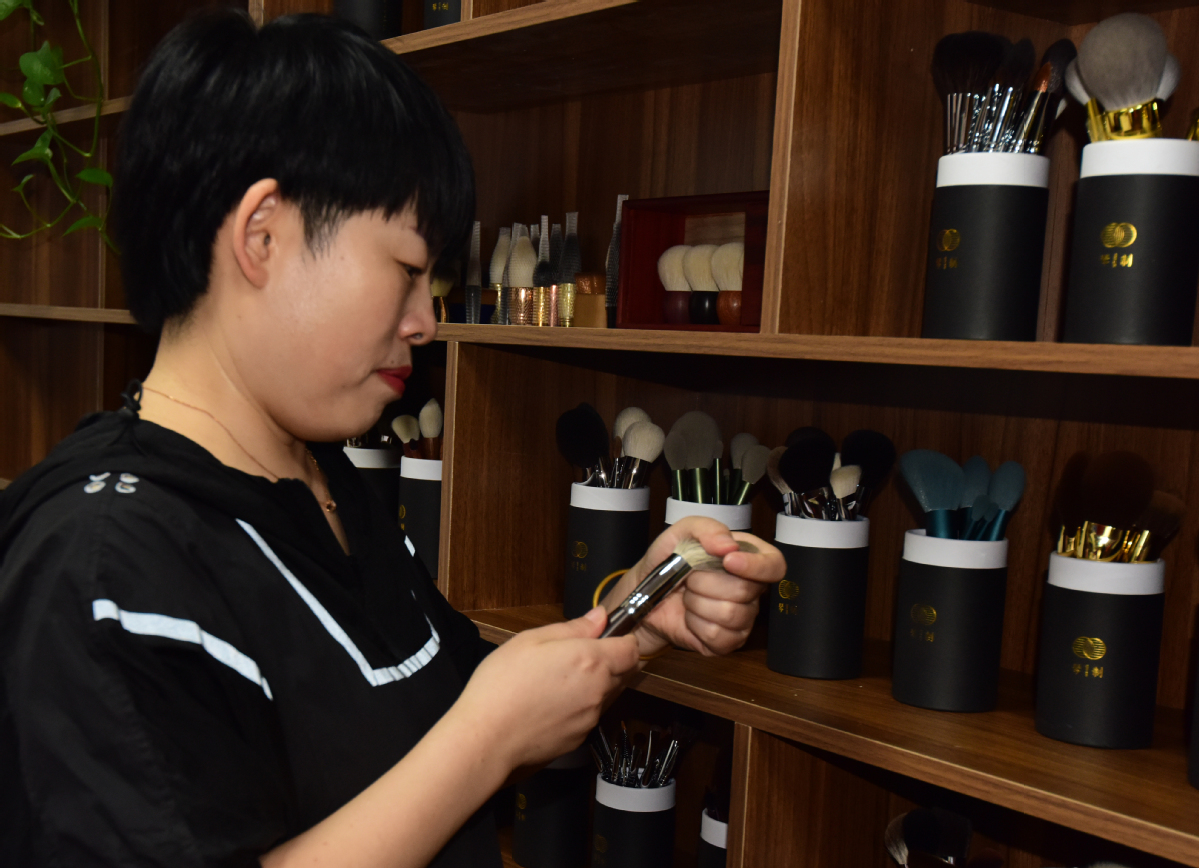 Shao's experience is typical for many locals in Qingxian who used to be skilled workers at foreign-invested companies. They created their own brands in the 2010s, and aimed to promote their brands further with higher quality.
Kang Shaoxing, president of the Qingxian Makeup Brush Industry Association, is one of the earliest trendsetters. He registered a brand named Energy in 2011. At the time, other local brands, including Shoushoulang, Qinzhi and Huayang, were also registered and have since become very popular in the domestic makeup brush field.
When the industry's foundation was established by these elder skilled workers, some new entrepreneurs started to see great potential in the sector and joined in.
Zhang Mengwei is a 33-year-old general manager of a relatively new company-Cangzhou Pinzheng Cosmetic Applicators Co-which he established in 2019 along with three other young partners.
"Our county has built a solid foundation for developing the industry, equipped with whole-chain companies, from raw materials and brushes to promoting and selling finished products," said Zhang, who used to work at a car wash.
As a young team, they did not set up a factory to manufacture the brushes at first, but collected good products from other mature factories and sold them on different e-commerce platforms, including Tmall, Pinduoduo, Douyin and Kuaishou-all popular with Chinese consumers.
For their first year of operations in 2016, they achieved sales revenue of more than 3.5 million yuan. "It was a big number for us at the time," Zhang said, adding he got greatly motivated by this early performance.
He quickly realized that product quality was the top issue for successful participants in the sector.
"Products collected from different factories had some differences, because most of the manufacturing procedures were done manually."
To make products more uniformly in line with his standards, Zhang registered a brand in 2018 and the next year established his own factory.
"I have higher standards for the shapes of brush tips, because even minor changes may make users more comfortable," Zhang said.
With enhanced quality and accumulated customers online, Zhang's brand surpassed other local brands with longer histories and has become the top player with the highest single-day sales revenue.
In 2019, sales of his Huayang products reached more than 10 million yuan. Last year, sales reached 40 million yuan. He expects revenue to top 80 million yuan this year.
As a young entrepreneur, Zhang was included in the county's Makeup Brush Industry Association and is responsible for sharing his experiences with younger entrepreneurs interested in doing a similar business online.
"The local government is enhancing its support for the industry, because it has seen a great potential to develop the industry, especially after the pandemic, when makeup brushes have seen booming sales," the association's president Kang said.