Makeup brushes sitting pretty in Hebei
Share - WeChat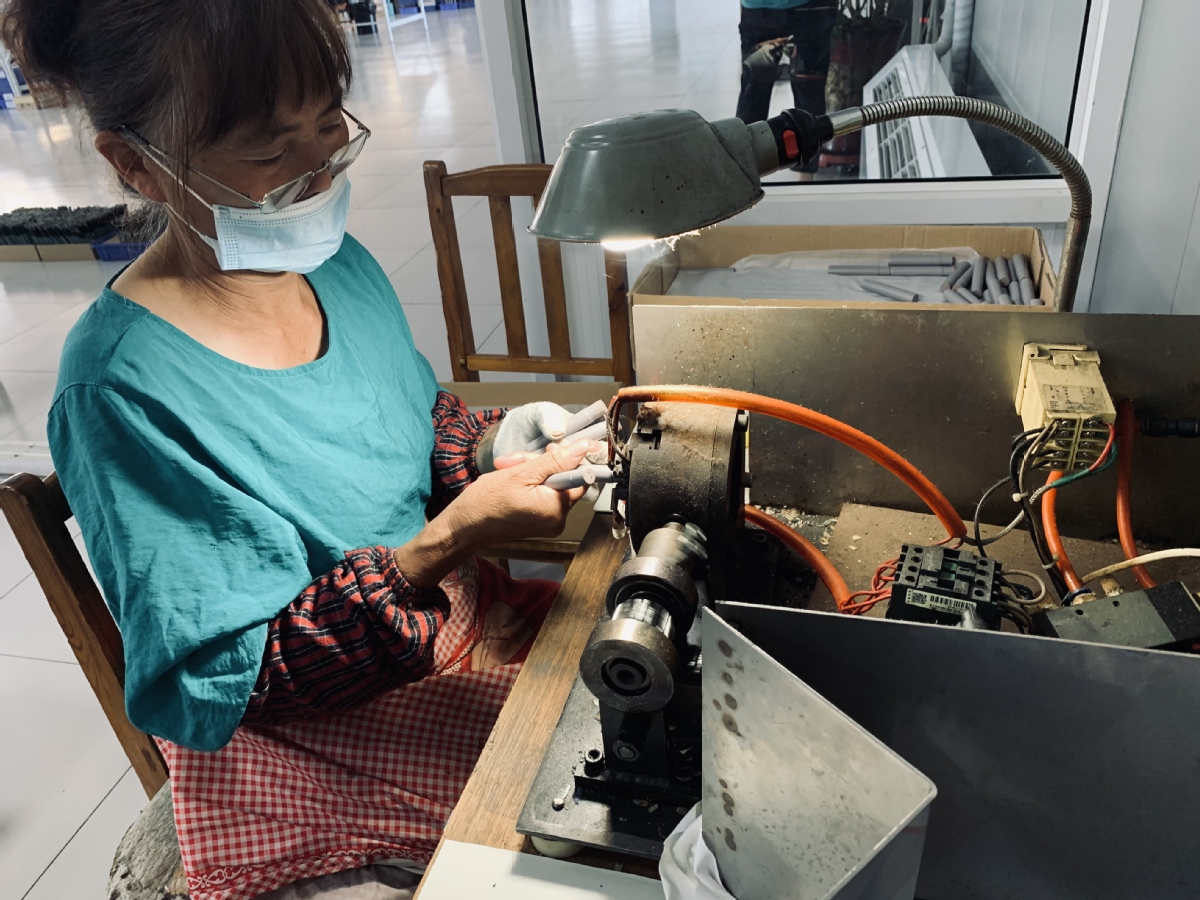 The 47-year-old woman began working at a South Korea-invested factory in the 1990s. In her five years at the factory, she held different posts and became skilled at all procedures for producing a makeup brush from scratch, including tidying up bristles and molding brush tips into various shapes.
"I wanted to open a factory myself so that I can chase my own dreams," she said. Fortunately, her boss in the South Korean company-Cangzhou Sanxing Brush Making Co based in neighboring Cangxian county-encouraged her to do so.
The South Korean companies had labor costs much higher than local companies, Shao said. She said sometimes international orders surpassed foreign companies' production capacity limits, thus forcing them to parcel out work to neighboring plants.
Together with her husband-who also used to work at the same company as an interpreter and quality inspection staffer-they set up a factory, but only for making bristles at first.
The bristles, made in accordance with standards of overseas orders, were supplied to her ex-employer, who was very satisfied with the bristles' quality and encouraged Shao to produce more complete sets of makeup brushes.
"My ex-boss was right, if I didn't do it, I would lag behind, because in a few years, more factories will be opened by locals that attained knowhow in brush-making," Shao said.
In 2007, Shao's factory transformed and started to make whole sets of makeup brushes, but still for international brands processed via her former employer.
"Several years later, I realized that even if I made the best products, they were only for others," she said. With more ideas in mind, Shao registered a brand for her own company, under which she could utilize her own thoughts about brushes.
Although Shao herself was not a big user of makeup, she started to try them one by one, from foundation brushes to eye shadow brushes and lip liner brushes.
"I would figure out many details like what shape of bristles is best for a blush brush and what kind of handle is easy to hold for a fluffy blending brush," she said.
Shao was further motivated because she could innovate with the brushes and nurture a brand of her own. She gave her brand the name of "Fix+", meaning any beauty lover could fix unsatisfactory blemishes and find beauty with the brushes.
To date, Shao's company-Qingxian Donghua Cosmetic Applicators Co-can produce more than a million makeup brushes and sell about 40 million yuan annually via two stores on Alibaba's Taobao and Tmall.
Shao said her company only makes medium and high-end products. "It's a general trend that almost all brush makers in Qingxian target brushes of higher quality for high-end consumers."
By the end of the year, she plans to manufacture makeup brushes of the highest quality possible, with bristles made of natural materials like goat hair, and handles hewed from fancy wood and even delicate carvings.
"I want my customers to have the best experience using my brushes," she said, adding that the brushes could be a craft for people who like applying makeup.