Cosmetic surgery in firing line after death linked to liposuction
Share - WeChat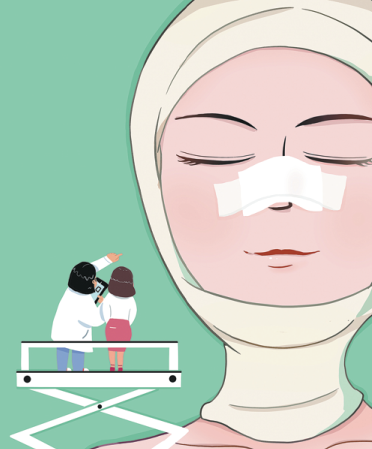 Malpractice blamed as blogger dies of postoperative infection in Hangzhou
Cosmetic surgery has received a barrage of criticism after the recent death of an internet celebrity in Hangzhou, Zhejiang province, following an operation to remove fatty tissue.
Surnamed Dai, the 33-year-old ran her own fashion brand and had about 13,000 followers on Weibo, a micro-blogging platform. She died on July 13, two months after the surgery, due to a postoperative infection.
On May 2, Dai underwent bodyshaping surgery including liposuction and lipofilling at Hangzhou Huayan Beauty Art Center.
Following an investigation, Hangzhou's health commission said the center's pre-and postoperative malpractice was due to medical negligence, and it was responsible for Dai's death. The center has had its operations shut down.
Figures from China Judgments Online, an official internet archive of cases, show there have been about 18,000 judicial cases related to cosmetic surgery since 2005, with the number increasing rapidly since 2014. There were more than 5,800 judgments on plastic surgery cases last year.
In a white paper released in March, the Chaoyang District People's Court in Beijing said it had settled 195 cosmetic surgery cases in the previous five years. They accounted for 27 percent of its caseload last year, up from 10.8 percent in 2016.
Just over half the 195 cases concerned facial plastic surgery, while a fifth were related to body shaping.
Fraudulent advertising and illegal medical practices are two main issues in the sector, according to the white paper, which it said had led to inflated prices and health risks.
"I felt very sorry when I heard about Dai's death, but her tragedy is not rare in an environment where people, especially women, have growing anxieties about their appearance," a 26-year-old fashion blogger who requested anonymity said.
"The ideal image for women-rich, beautiful and with a curvy body-is driving us to seek out more information on beauty and ways of being beautiful, and enticing us to even try risky procedures.
"My friends are always trying to persuade me not to have plastic surgery, or even noninvasive anti-aging facial treatments. But I just can't refuse the temptation of being young and beautiful like the girls in the beauty institutes' advertisements."
The blogger said that cosmetic surgery was common among celebrities and even bloggers who needed to look beautiful in front of cameras.
"It's really ironic to talk about inner beauty with a blogger like me," she said. "I earn money through beauty, either a beautiful face or a curvy body. Undergoing plastic surgery is the best and fastest way to improve."
Xu Nan, director of the dermatology department at Tongji University's Shanghai East Hospital, said that everyone is free to pursue beauty, but that they should have a better understanding of cosmetic surgery because they only have one life.
"To those pursuing beauty, it's necessary to know yourself. No one is perfect," she said. "But if you have a physical handicap and it hampers normal life, then you can consult certified doctors at regular hospitals."
She said that any surgery comes with risk, including cosmetic surgery.
"Public hospitals with sterile operating rooms and qualified doctors can only reduce the risk during surgery by strictly controlling drug use and operation procedures, not completely avoid it," Xu said.
A recent report by iResearch, a consultancy headquartered in Beijing, said the domestic cosmetic surgery market was worth 176.9 billion yuan ($27 billion) in 2019, with over 13.7 million customers.
The report said there were 13,000 licensed beauty centers in 2019, and over 80,000 unlicensed ones offering cosmetic surgery.
Due to the rapid expansion of the sector, the central government has taken strict measures to improve management and regulate the market.
In June, the National Health Commission and seven other central government departments, including the Ministry of Public Security and the State Administration for Market Regulation, released an action plan for a nationwide crackdown on illegal cosmetic surgery services this year.
The plan said illegal practices including false advertising, unfair competition and producing and using drugs that do not comply with national standards will be stringently punished. Authorities will also clamp down on price gouging and the hiring of unqualified medical staff.