Quick-witted mother helps organize 'textbook rescue'
Share - WeChat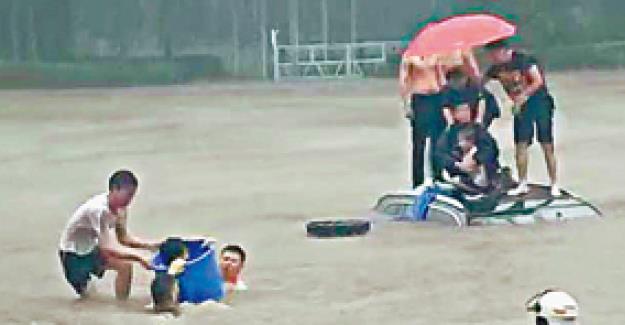 What if your beloved family members are facing death but you're unable to rush to the scene and all emergency hotlines are busy?
A mother in Zhengzhou, which was flooded by massive downpours a few days ago, made a smart choice, asking for detailed descriptions of the surrounding environment and then searching food-delivery and store-rating apps to look for the nearest contacts.
This wisdom, along with warmhearted help offered by strangers, saved the lives of her mother and two children, who had been trapped in a car in the flood.
And the story, after being circulated online, has been described as a "textbook rescue" by netizens, who admired the woman and the helpful spirit of people in Zhengzhou.
"I feel so lucky. If any part of the rescue had not worked, for example, if the stores had closed early or if my mother's phone didn't have a signal, I would have lost them," said Yu Ting. "Although my phone calls played a role, I feel most grateful to those brave rescuers."
Yu recalled the story with China Daily reporters on Thursday. At around 5 pm on July 20, her 59-year-old mother, Li Lan, 7-year-old son and 4-year-old daughter were trapped in a car which had stalled after Li, who was bringing the children home from school, tried to drive through floodwater. The car's doors and windows could not be opened.
Water was entering the car and rising quickly. At first, Li waved her hands to attract the attention of passersby, but nobody noticed her due to the downpour. She then called Yu for help.
Shocked and worried, Yu forced herself to remain calm and think of ways to rescue them.
"I just wanted to keep them alive, but I couldn't get there quickly without proper transportation, and that would have wasted precious rescue time. Even if I could make it to the scene, I would have had to watch them die in front of me if I didn't have the proper tools," Yu said.
"It was the first time I had ever experienced the possibility of losing someone. In an instant, sadness and fear filled my mind, but I didn't cry.
"I'm a military veteran, so maybe I'm a bit stronger in my mind than others. I knew that my fear could not save them. I asked my mother to tell me about any nearby shops she could see. Then I found their phone numbers on food-delivery and store-rating apps and called them for help."
Yu made two calls to Lu Lianmeng, the owner of a convenience store near the trapped car, but Lu missed the calls because he was busy saving his stock from the flood. He later called back, and she told him about the emergency.
"Lu said he was not in the store and would ask others to help. Then he called Li Kunpeng, the manager of a nearby hotel, to rescue my family members," Yu said.
Yu kept calling her mother every three minutes and learned that the water level had risen to her neck. "She was sitting on the armrest and holding the terrified children," Yu said.
Yu was on the edge of collapse because her mother told her that nobody had come to help, but her mother displayed a strong character in front of the children.
"My mother told the two kids that they were playing a game called 'adventure in flood' and that someone would come to rescue them soon. She tried her best to ease the kids' anxiety and prevent them from choking on the water."
By the time people began arriving to help, the water was level with Yu's mother's mouth.
Li Kunpeng, the hotel manager, was transferring computers from one site to another when he received the call from Lu.
Li dropped what he was doing and rushed to the scene.
"I had no time to find other tools, so I grabbed a kitchen knife," the 32-year-old said. "The heavy rainfall hastened the rise of the floodwaters. The water level had reached my neck by that time. I climbed on a car and saw the woman waving to me for help from inside the car."
Li Kunpeng first hit the glass with the knife but failed. Then he tried to break the sunroof, but he stopped because the grandma was holding the children very close to it to get more air. He called loudly to others in the hotel to bring tools.
After hearing the cry for help, 24-year-old Li Xiang, the owner of a nearby noodle shop, rushed to the car with a sledgehammer and a wrench. He climbed onto the car's roof and broke a hole in the left side window, carefully enough to avoid hurting the people inside.
More people joined in the rescue, including a bartender and his colleague, who brought a long rope. Two security guards who were patrolling nearby heard the cries for help and took a hammer and big plastic garbage cans with them.
Yin Longfei, the owner of another nearby hotel, also ran to the scene with a large bucket. A friend of Yu also arrived, and helped break the glass and pull the children out of the car.
Li Xiang said: "We first put the boy in the bucket, and three people transferred him to a safe place. Then we went back to get the girl."
The woman and children were saved. In a video posted online, 11 people were seen being actively involved in the rescue. Although some of their names remain unknown, the helpful spirit they displayed has moved numerous people.
Yang Wanli contributed to this story.