Ain't no mountain high enough
Share - WeChat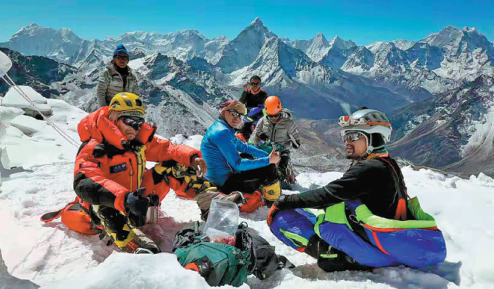 Taken on trust
Zhang originally planned to ascend the world's highest peak in 2020. However, due to the novel coronavirus outbreak, all mountaineering expeditions on Qomolangma were canceled in both China and Nepal last year. In April, Nepal reopened Qomolangma for foreigners.
On April 25, Zhang and his team headed to Khumbu icefall for training. The almost vertical ice walls were so hard for Zhang to climb that he didn't know where to put his foot next. He had to use both his hands and feet and follow the trace of his team members' movements on the ice wall to scale it.
He wrote in his diary that day: "The Qomolangma that I am in awe of, I hope you accept me".
On his way to the base camp at Qomolangma, he met many other mountaineers from all over the world. They all encouraged Zhang even though they spoke different languages and Zhang could feel their warmth through a hug or a pat on the shoulder.
Zhang says the climbing of Qomolangma has taught him many things including how to trust people.
"As a blind person, because you can't see the environment around you, all the information is provided by others, so we have this habit that's formed over years that it's difficult for us to fully trust other people," he explains.
Paying it forward
Beijing-based film director Fan Lixin, renowned internationally for his award-winning documentary Last Train Home, heard about Zhang's ambition of climbing the Qomolangma and thought it would make a good documentary film.
"I think each one of us has a dream that may seem impossible to achieve, so I wanted to record Zhang's process of trying. I didn't know whether he would succeed or not, but I thought the trial itself would be valuable, and it could send a positive message and energy to the audience," Fan says.
He met Zhang for the first time at a cafe in Chengdu during Spring Festival last year. His first impression of Zhang was that Zhang is a person who stands by his words. "He is so careful in behavior and his way of thinking,"
Fan says Zhang is always careful that he doesn't cause any trouble for others, and he hopes people treat him like a normal person.
Fan's crew started to film Zhang from then on to record his training and daily life and they followed Zhang throughout his entire Qomolangma journey.
Fan followed Zhang to record him climbing a mountain over 6,000 meters above sea level. "It was hard for me, as I had no previous climbing experience, and the level of difficulty to climb a mountain over 8,000 meters is way higher than to conquer a mountain over 6,000 meters," Fan says.
Fan noticed Zhang let his guard down after he conquered the peak. "The whole team supported him by giving him all the oxygen tanks in the end, and it touched him."
Zhang hopes that his story may inspire others, like Weihenmayer once inspired him.
"I've gained so much energy from my family and friends that I was able to conquer Qomolangma. Now I want to unleash that energy and influence and encourage other people with disabilities," he says.
Conquering Qomolangma has been only the beginning for Zhang as he has turned his attention to the 7+2, which are the highest peaks from the world's seven continents and the two poles.
"I can't see the world, but I want the world to see me," Zhang says.
Contact the writer at liyingxue@chinadaily.com.cn
Most Popular