Ain't no mountain high enough
Share - WeChat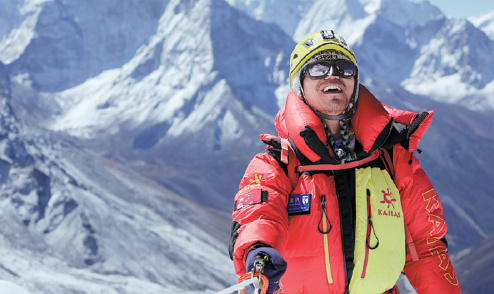 Life support
Born in Chongqing, Zhang lost his sight at the age of 21 due to glaucoma, three months after being diagnosed. Both his father and uncle lost their sight because of the same disease, so Zhang knew what life would be like after he lost his vision.
He lost his hope for life after losing his sight and tried to commit suicide, but he was saved by his wife Xia Qiong.
Zhang met his wife when his sight was deteriorating. He recalls he met her in the street and was impressed by her looks, so he went to talk to her. "It was a bit rude to just talk to her on the street like that. But she must be an angel that has been sent to me," he says.
"I knew exactly what life would be like for blind people. And I felt so desperate then. But my wife never gave up. She stood by me and encouraged me all the time," Zhang recalls.
"She has borne much pressure and grievance during the past two decades. Without her by my side, I couldn't have pulled myself together," he says.
Zhang became a masseur and in 2012 he moved to the Xizang autonomous region and started to work at Fokind Hospital affiliated with Xizang University in Lhasa.
His interest in climbing began by accident. In 2015, he heard about the blind American mountaineer Weihenmayer, who scaled Qomolangma in May 2001.
Chen became Zhang's guide and later his trainer and the duo started to climb the mountains together.
Zhang trained on a daily basis through climbing stairs with a 30-kilogram load. He thought the training monotonous but said it was essential to build up his stamina.
He also had to do more technical training including rock climbing and walking on snow or icy terrain. Climbing on ice is one of the hardest challenges for Zhang. He had to learn how to kick the ice with his feet and to use the ice axe to support his weight.
Before heading to Qomolangma, Zhang conquered three mountains above an altitude of 6,000 meters including Mount Muztagh Ata in the Xinjiang Uygur autonomous region.
Zhang says the experience of climbing is quite meaningful for him. "When I stand by a lake, for instance, I can't see the beautiful scenery. Most trips have no experience for me. But when climbing, I can feel the change in air pressure, oxygen level and temperature the same as other people, I can have the same physical experience."
Most Popular