Art exhibitions, live shows mark Party's anniversary
Share - WeChat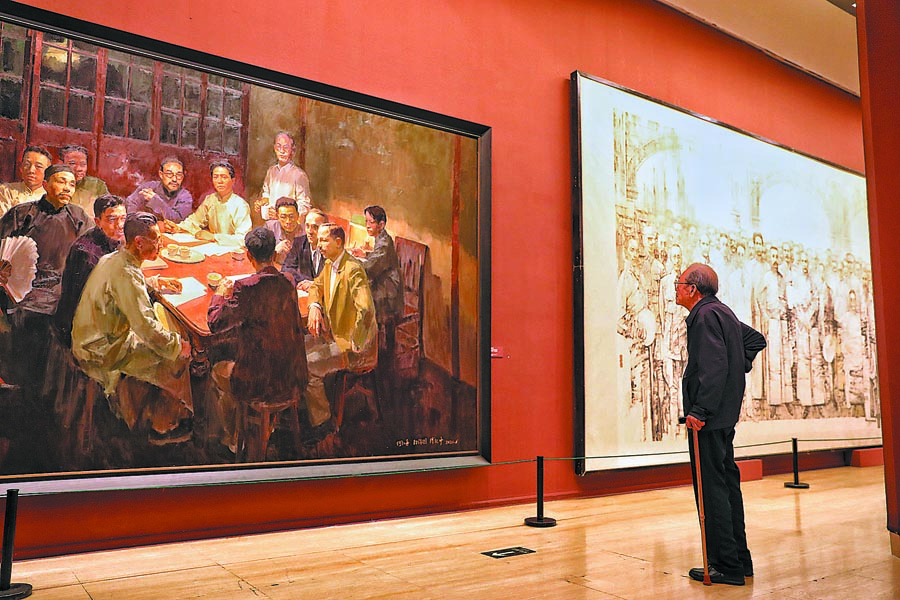 Dozen displays
The Greatest Changes in the Past 100 Years is one of a dozen exhibitions to open nationwide recently to mark the CPC's 100th anniversary. The displays feature various art forms reflecting the transformations Chinese people experienced to achieve national rejuvenation and seek individual happiness under the CPC's leadership.
Most of these themed exhibitions are being staged in Beijing, including Great Cause, a long-term display featuring more than 400 works of calligraphy at the National Museum of China and the National Library of China.
Red Ribbon of the Earth, a collection of drawings by Shen Yaoyi illustrating the course of the Long March in the 1930s, is being staged at the National Center for the Performing Arts, or NCPA, in Beijing.
This epic work, which took Yao several years from the late 1980s to complete, retraces the Long March's routes, features collected anecdotes and also illustrates the tactical retreat undertaken by the CPC-led Red Army to evade Kuomintang forces for two years starting in 1934.
The exhibitions being held away from Beijing are equally diverse. The Zhejiang Provincial Museum in Hangzhou, capital of Zhejiang province, is displaying selected works from its collection of woodcut prints. Woodcuts were widely used to inform the masses of revolutionary ideas and progress in socialist construction.
In Nanjing, capital of Jiangsu province, the Nanjing Museum is displaying classical Chinese landscapes by modern ink master Fu Baoshi. Drawn from the museum's extensive collection of art, the exhibition reflects Fu's approach to appreciating New China.
Various exhibitions include dozens of iconic items under the label "Red Classic", a distinctive category of fine arts themed on China's revolutions and socialist construction, and constituting an important part of Chinese art in the 20th century.
"Red Classic" art has produced many masterpieces that portray classic stories which resonate among people of different ages. They include Red Ribbon on the Earth by Shen and many of Fu's paintings inspired by the poems of late Chairman Mao Zedong. These paintings and sculptures help visitors imagine collective and individual journeys made through hardship in different stages of history.
Many such examples feature in two exhibitions staged in Beijing to mark the CPC's centenary. Pictures of Times, Journeys to Greatness is being hosted by the National Art Museum until July 25, and Silent Ode to History by the National Museum of China. The latter exhibition has no specified closure date.
Noted sculptor Qian Shaowu, who died on June 9, age 94, first learned about the deeds of Li Dazhao, a founder and pioneer of the CPC, at age 16. Qian, who was moved by the sacrifices Li made for the nation, was commissioned decades later to create a statue of Li, which is on show at Pictures of Times, Journeys to Greatness.
Qian once said it took him two years to prepare the work. He read through Li's writings and also recollections by Lu Xun, the writer and scholar. He talked to Li's family several times and studied items used by the pioneer. "I think he was a cornerstone of Chinese revolution," Qian said.
Shao Xiaofeng, a researcher at the National Art Museum, said: "Qian used simple, straight cuts to create a square outline, accentuating Li's high morality and firm belief in the Communist cause. The statue is like a huge stone rising above the ground and sitting permanently. Qian designed it to reflect Li's greatness as a scholar and revolutionary."
The artworks being displayed pay tribute not only to luminaries such as Li, but to unsung heroes whose contributions should also be remembered.
The Silent Ode to History exhibition at the National Museum of China includes a sculpture in which late artist Pan He portrays a scene of peace and warmth. During a break in battle, a senior Red Army soldier plays the xiao, a Chinese bamboo flute, while a younger soldier appears deeply immersed in the music.
Titled Time of Hardships, the work has been exhibited widely and aims to touch the hearts of audiences, as it represents an intimate moment shared by two companions who are not related but supported each other on the common pathway to revolution.
Pan once said: "Good art must serve the interests of the people. I've never stopped believing this."
Fan Di'an, president of the China Artists Association, said these classic artworks have resonated with people and motivated them. They have also spurred younger artists to create new works showcasing the history of Chinese art over the past century.